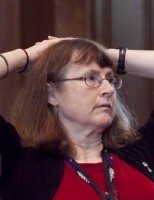 Dear Oregon State Senator Ginny Burdick,
We have never met, but you seem to have made up your mind about me, without ever communicating with me in any way. Your preconceived notions of me, and everyone that opposes Senate Bill 964, are misguided and wrong. When you were asked about my opposition to a bill that will force hundreds, if not thousands, of sick and disabled patients to lose their medical cannabis gardens, you told The Oregonian that I'm "primarily interested in preserving his business." Your statement is irresponsible, not fitting for an elected official. Such a careless statement shows that you haven't done your homework on me, just as you really haven't done your homework on the Oregon Medical Marijuana Program (OMMP), particularly for someone who opposed Measure 91 , as you admitted recently on KATU's "Your Voice, Your Vote". It is really a shame that someone who voted against Measure 91 would be appointed to chair a committee that is supposed to be implementing Measure 91. I guess it shouldn't be surprising that you are willing to go against the will of the voters.
I am assuming that you are referring to my medical cannabis clinic businesses, Ashland Alternative Health and Northwest Alternative Health. Medical marijuana, regardless of whether the harmful Senate Bill 964 passes or not, is here to stay. If I was concerned primarily about my medical clinic businesses, why would I support Measure 91 in the first place? If money was my motivation, why would I support an even more progressive legalization measure, with bigger possession and cultivation limits? However, despite your best intentions, the OMMP is here to stay for a variety of reason. Senate Bill 964 won't hurt my clinic businesses, it will only hurt the most vulnerable patients who lose their garden (because you force some growers to drop their patients based upon their plant numbers or the land-use zone they grown in). Further harming patients, you support cities and counties banning medical marijuana dispensaries without a public vote, further denying patients' safe access.
You may not be aware of some of my other business ventures: the Oregon Medical Marijuana Business Conference and the International Cannabis Business Conference. A quick Google search will inform you that these conferences have been very successful. Your patient-harming Senate Bill 964 will actually increase the attendance at these business conferences. The more changes to the law in general and, the more rules and regulations the state puts into place, only leads to more ticket sales to marijuana business conferences as people in the industry will seek out the latest information.
Finally, it is insulting to everyone that opposes Senate Bill 964, which includes a strong majority of your constituents, for you to falsely claim that opposition is only about money. For some reason, you don't consider the business interests of Privateer Holdings and the Oregon Cannabis PAC (formerly the Growers PAC) when they seek more OMMP rules and regulations. More rules and regulations put in place help those with deep pockets, like well-funded private equity firms, PACs that cost $10,000 to join and law firms specializing in the marijuana industry. My business will be okay. Unfortunately, I can't say the same thing for the poor sick and disabled patients that you will harm by passing Senate Bill 964.
Thus, I will continue to fight against the bill and every bill that will harm the most vulnerable patients and the OMMP. You don't seem to be paying attention to the people contacting you, urging you to stop hurting patients, but neither did Dwight Holton. At this rate, you may just suffer the same fate as Mr. Holton, as Democratic primary voters tend to support sick and disabled patients over well-funded business interests that work to pass laws that trample the sick and the poor.
Sincerely,
Alex Rogers