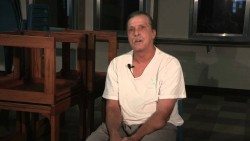 Jeff Mizanskey, a nonviolent Missouri man sentenced to die in prison for marijuana, granted parole today following great advocacy work by his family, Show-Me Cannabis and Missouri NORML! Mizanskey's attorney, Dan Viets, is the Show-Me Cannabis Chairman, the longtime leader of Missouri NORML and my first cannabis law reform activist mentor. I am so happy for Jeff Mizanskey, his family and everyone that has cared for and supported Mizanskey during his tragic ordeal. Jeff's sentenced was commuted, thanks to some amazing cannabis advocates, many of whom I am proud to call friends and colleagues.
One of the things that I admire most about the cannabis community is how we manage to turn tragedy into motivation to work that much harder to legalize marijuana and end the failed and harmful policies of the Drug War and Mizanskey's case is just the latest example of good folks rallying around a good person unjustly persecuted by the War on Drugs. People around the world couldn't believe that a nonviolent man could be sentenced to life in prison over cannabis. I had friends and family who aren't marijuana law reformers by any stretch who signed petitions asking for Mizanskey's release. The #FreeJeff movement sprung out of compassion and love and it is great to see that the hard work and passion of the cannabis community help win freedom for Mizanskey.
The press release that brought tears of joy to my eyes this morning:
NEWS FROM NORML

The Missouri Affiliate of the National Organization for the Reform of Marijuana Laws

For Immediate Release: For More Information Contact:

Monday, August 10, 2015 Dan Viets, 573-819-2669,

DanViets@gmail.com,

JEFF MIZANSKEY GRANTED PAROLE

This morning, Jeff Mizanskey was informed by the staff of the Missouri Department of Corrections that his application for parole has been granted. He is expected to be released within the next ten to 25 days. His release could come sooner.

Following a parole hearing last Thursday at the Jefferson City Correctional Center, the Parole Board indicated it might be six to eight weeks before a decision was reached. However, the strong expression of support for Jeff's release by members of the Missouri General Assembly and members of the general public may have accelerated the speed of the decision.
Jeff's attorney, Dan Viets of Columbia, said that he spoke this morning with Jeff's brother Mike Mizanskey of Chicago and his son Chris Mizanskey of Sedalia. Viets said that Jeff's family is thrilled that Jeff will soon be back at home after 21 years of incarceration for non-violent, victimless marijuana law violations.

Jeff was sentenced to serve life without parole under Missouri's "prior and persistent drug offender" law. He has never been convicted of any felony other than relatively small marijuana law violations. He has never even been charged of any act of violence toward any other person.
Missouri NORML and Show-Me Cannabis have worked together to support Jeff's petition for clemency and his application for parole. The original clemency petition was filed by attorney Tony Nenninger of Bourbon. Missouri NORML Coordinator and Show-Me Cannabis Chair Dan Viets represented him in the parole process.

Viets also served on the Missouri Bar Committee which revised the Missouri Criminal Code and recommended to the Missouri General Assembly that the "prior and persistent drug offender" law be repealed. The Missouri General Assembly did so last year. The repeal will become effective in January 2017.