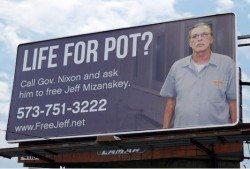 "FREE JEFF MIZANSKEY!" became a rallying cry for the amazing activists at Show-Me Cannabis and civil libertarians across the nation. In fact, anyone that cares about fairness and justice can't justify a nonviolent marijuana law offender spending longer in prison that rapists, robbers and even some murderers. The tragic plight of a nonviolent man sentenced to life in prison without the possibility of parole illustrates the harms and unintended consequences of the Drug War. Show-Me Cannabis has done a tremendous job publicizing Jeff Mizanskey's case and garnering support for his release from across the political spectrum. It feels me with joy that Mr. Mizanskey, who has already spent too long in prison, will now have an opportunity to be paroled, following a commutation from Missouri Governor Jay Nixon.
From Show-Me Cannabis:
Late this afternoon, Governor Nixon announced he'd commuted Jeff Mizanskey's sentence from life without parole to a life sentence with parole eligibility, almost guaranteeing Jeff's freedom in the immediate future. While Jeff's release must now be approved by the state parole board, Jeff has been a model prisoner with no violence or disciplinary issues, and is extraordinarily likely that he will meet the conditions for parole eligibility. It is our hope that he is re-united with his family sometime this summer.

Thanks to everyone who took the time to call or write the Governor about this issue. There are a ton of people who share credit for today's news, including everyone who contacted the Governor's office to advocate for Jeff's release. Your hard work, combined with pressure from a statewide media campaign and the actions of courageous legislators, such as Shamed Dogan, made this possible.

From here, the parole board will schedule a hearing to decide on Jeff's release. This is likely to happen sometime this summer. Our hope and expectation is that they will immediately grant parole. While today is absolutely a day to celebrate, let us always remember that we must continue to fight for others serving unjust sentences for cannabis. Jeff will soon be free, but we will continue to fight for others like David and Natalie DePriest who recently received 15 year prison sentences for growing 20 cannabis plants in their closet. We hope you will continue to support our efforts by making a contribution of $10, $25, or $50 to help end the war on cannabis and free its victims.
Today is such a great day for Jeff Mizanskey, his entire family and the many, many people who helped shine a light on his cruel punishment. I am so proud of Show-Me Cannabis and every single person that has fought for Mizanskey's release. The fact that such draconian sentences are levied in a free country is mind boggling and puts into perspective why drug law reform advocates do what we do. While prohibitionists like to claim that advocates only care about getting high or are all about making money with a new industry, the case of Jeff Mizanskey demonstrates the real reason we fight unjust laws and the compassion at the heart of our fight. We strive for a day, when no one is locked in a cage for nonviolent drug offenses. And days like today, when we can celebrate with Jeff Mizanskey and everyone that cares about him, are so rewarding and let us know that, one day, the truth shall set us all free.
You can donate to Jeff Mizanskey's "Coming Home" fund here.