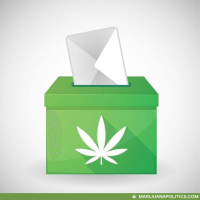 The news media will certainly focus a lot on marijuana in the 2016 election. Unless you have been living under a rock, you know that marijuana is covered a lot in the media these days. Many mainstream media outlets, once strong opponents of legalization, have now embraced marijuana with spin-off publications that focus solely on cannabis or they have reporters covering the marijuana beat. We will see marijuana coverage increase both locally and nationally as public support for legalization increases, media outlets recognize an increase in "click" from their coverage, more marijuana measures are placed on the ballot across the nation, federal reforms continue to be introduced and political candidates are asked their opinion about the subject.
Newsweek covered the change in public opinion and previewed the stances of major presidential candidates in its special edition "2016: The Marijuana Election":
Though public opinion is shifting toward embracing cannabis reform, presidential candidates are a little more hesitant to jump on the bandwagon. Of the candidates who have expressed interest in running for the 2016 presidential nomination, only three support radical federal reform as of press time. One candidate is Vermont Senator Bernie Sanders, who is in favor of decriminalization and medical marijuana use and open to federal legalization. Alongside him is Democratic candidate Lincoln Chafee. Having already signed marijuana decriminalization laws on a state level, the former Rhode Island governor admits recreational use could be good for tax revenues. Still, both Chafee and Sanders have made it clear they will continue to monitor Colorado before making any major decisions. Finally, Donald Trump expressed interest in legalizing drugs back in 2011 but as of press time has not released further statements on the matter.

A handful of candidates are open to medical marijuana legislation but are against recreational use. Once a staunch opponent of cannabis reform, Hillary Clinton has since become more receptive—a change from her 2007 stance against decriminalization. Now, the former secretary of state and perceived Democratic front-runner believes state governments have the right to set their own laws and is open to medical marijuana use. All the same, she maintains she has never tried cannabis herself. "I didn't do it when I was young; I'm not going to start now," she told CNN. Like Clinton, Democratic candidate Martin O'Malley has softened over the years. Previously known for his firm opposition to drugs, the Maryland governor has since become open to moderate marijuana reforms, such as decriminalization and a program for very limited medical marijuana distribution.

Republican candidate Rand Paul is also open to limited legislation, having expressed interest in scaling back the war on drugs; in March, he signed a bill to curb the federal government's role in medical marijuana laws. Fellow GOP candidate Lindsey Graham is also receptive to the benefits of medical marijuana but has articulated resistance to federal legalization. Bobby Jindal was supportive of medical initiatives in Louisiana. Meanwhile, Dr. Ben Carson is skeptical of medical marijuana but has not explicitly come out against it.

(Emphasis added)
It is very easy to see how marijuana coverage will be very prominent during the 2016 election.The 2016 presidential candidates will certainly get pressed on their thoughts about legalization in Colorado, Washington, Oregon, Alaska and our nation's capital, but also upon the medical marijuana laws in key states across the nation, including the first primary in New Hampshire. Additionally, with legalization and/or medical marijuana on the ballot in California, Maine, Nevada, Florida and potentially Missouri, candidates will not be able to dodge the cannabis question, they will need to have their policies on point and it is clear to see that the American public is headed towards supporting legalization more and more.
Similar to marriage equality, we are seeing both an increase in marijuana legalization support across demographics, but especially among younger voters, the future of our political system. I suspect that an increase in scientific knowledge and personal experience has increased support for legalization, but also just the notion that our country has bigger fish to fry. From climate change to the global economy to militant radical groups like ISIS, using our resources to throw nonviolent people in cages for cannabis will only seem more barbaric and wasteful to a growing number of voters.
The next President of the United States will have a huge impact upon how our nation proceeds on marijuana policy in the coming years. We have seen how big a difference the POTUS can impact our political culture, just as President Obama's evolution on marriage influenced the nation and his administration's recent pragmatic marijuana policy decisions, basically adhering to states' rights principles, set the stage for further reform. The 2016 presidential election will focus on marijuana policy early and often and I predict that the next POTUS will come to the conclusion that the United States of America has major issues to contend with and arresting, prosecuting and imprisoning nonviolent people for marijuana is no longer a priority of the federal government, unless voters across the country do something really counterproductive and elect Chris Christie.