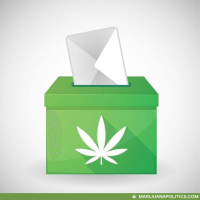 Unfortunately, the Maine Secretary of State Matt Dunlap has chosen to unnecessarily disenfranchise Maine voters from having their say on cannabis legalization this November due to what amounts to a minor clerical misunderstanding. The Secretary of State's office declared that a notary's signature didn't match the signature on file, invalidating the signature of thousands of voters. It is very troubling that the Secretary Dunlap's office didn't take steps to have the notary's signature verified and even misled the public about efforts taken to remedy the signature mismatch.
Placing a measure on the statewide ballot is a lot of work as tens of thousands of signatures are needed from registered voters to qualify an initiative petition. Voters trust that signature gatherers follow proper policies and procedures. Of course, it doesn't help that the notary in question, Stavros Mendros, has been dinged for violations in the past, but his transgressions shouldn't invalidate voter intent.
From the Sun Journal:
David Boyer, the director of a citizen petition campaign that's hoping to ask Maine voters to legalize marijuana for recreational use in November, said Friday his group will take its case to court following a decision by the Maine Secretary of State's Office that determined it could not validate some 5,000 petitions, and about 17,000 voter signatures, that had been notarized by Mendros.

***

"This isn't about Stavros," Boyer said. "This is about the fact that over 17,000 valid voters signed their name on there, then those circulators swore, they signed swearing they witnessed those signatures to a notary — (Mendros) is a notary, his commission hasn't expired yet. This is about voter intent."

Boyer said he would swear under oath that he witnessed Mendros notarize petitions, and he questioned why all of the petitions notarized by Mendros were invalidated.
It isn't surprising that states with the initiative process have led the way on cannabis policy. Despite the fact that a strong majority of voters support legalization across the nation, politicians have proven to lag behind passing marijuana laws that respect the sentiment of their constituents. A recent poll revealed that 65% of Maine voters support ending cannabis prohibition.
Of course, prohibitionists are pleased with Secretary Dunlap's decision to deny a vote on the issue. "This is a huge sigh of relief for Mainers and our public health community, especially in a period where we are facing a serious and growing opiate crisis," Scott M. Gagnon, Maine director for Smart Approaches to Marijuana, told Marijuana.com.
An alleged mismatched rotary signature should not deprive the intent of the voters, particularly when the validity of voters' signatures and the proper process can be verified. If the Maine Secretary of State insists upon denying the will of the voters, then Maine courts should respect the voters and let them have their say this November. Let Mainers vote.