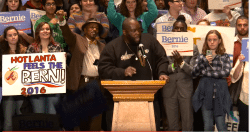 Hip hop artist Killer Mike's passionate introduction of Bernie Sanders before a raucous crowd in Atlanta, Georgia, has made the waves on social media with many progressives touting his inspiring speech. While many political pundits may discount the importance of an endorsement from a rapper named Killer Mike, the support could prove crucial for Senator Sanders as he hopes to make inroads with black voters, who currently overwhelmingly support front-runner Hillary Clinton. Some of us hold out hope that, like Barack Obama before him, Sanders will be able to galvanize black support by demonstrating that he can win in Iowa and New Hampshire, but it would be nice to see the Vermont Senator increase his support before those crucial early-voting states.
Killer Mike listed a variety of reasons that he supports Senator Sanders, from income inequality to foreign policy. Of course, to me, what caught my ear was Sanders' support to end the Drug War. Killer Mike stated that, "In my heart of hearts, I truly believe that Senator Bernie Sanders is the right man to lead this country." The hip hop artist continued, "He, unlike any other candidate, said, I wish to end this illegal War on Drugs that disproportionately targets minorities and poor."
The Drug War has undisputedly devastated black communities across the nation. This war on our own citizens has created a mass incarceration epidemic that has torn families apart and created economic hardships that too many poor people cannot overcome. Dr. Michelle Alexander has eloquently declared our mass incarceration tragedy spurred by the War on Drugs as "The New Jim Crow". Bernie Sanders was the first Democratic candidate to contend that states should be able to legalize marijuana without restrictions and the only one to call for an end to federal cannabis prohibition and eliminate the private prison racket. Sanders has done a tremendous job dictating the criminal justice policy debate during the Democratic primary, but only he has supported policies that will truly move us towards a sane drug policy.
Watch the entire rousing introduction below. Killer Mike's statement on the War on Drugs begins at 2:50.