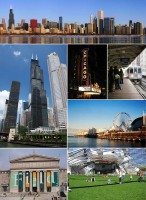 Medical marijuana legislation started on the West Coast initially, followed by the Northeast and then have moved into other areas of the country. Cannabis legalization seems to be following a similar trend. The politics of voters on the West Coast and New England states certainly favor legalization more than other areas of the country. Additionally, the initiative process, most prevalent on the West Coast, has been instrumental in bypassing the elected officials who have lagged behind the people on the issue. However, a few states in the Midwest are making major moves towards sensible cannabis laws and Illinois is certainly one of them. From The Chicago Tribune:
With a medical pot program underway and lawmakers voting last month to decriminalize the possession of small amounts of the drug, Illinois is following a path that three others states have taken toward legalization. Alaska, Colorado and Oregon rolled out medical marijuana and loosened pot penalties before approving the drug for recreational use.

Advocates caution that it could be years before Illinois takes further steps toward legalization. And some of the same politicians and lobbying interests who pushed for medical marijuana say legalization is not on their agendas. Still, activists believe — and some national polls suggest — the tide is turning.

At least five states have efforts underway to hold public votes this year or next on legalizing pot. But in Illinois, only the General Assembly, not voters through a statewide referendum, could act to legalize pot.
If Illinois had the initiative process, I imagine that the Prairie State would be on the shortlist of states looking to legalize marijuana for adults in 2016. Since the Illinois Legislature must pass any legalization measure 2020 should be a reasonable goal to end cannabis prohibition in the state. I once hoped that we would see a state legalize marijuana by 2020, so I have typically been conservative on my predictions and momentum for marijuana legalization seems to snowball at a rapid rate, so Illinois may surprise me.
The better prioritization of law enforcement resources, judicial savings and new revenue experienced by the early pioneers of marijuana legalization will certainly influence Illinois legislators and if Midwest states such as Michigan and Missouri pass legalization measures, then pressure will be Illinois to join the growing list of states benefiting from sensible cannabis policies. Ultimately, the voters of Illinois, who will only support legalization in greater numbers, will have their say and the politicians will respond to their constituents, but hopefully that day will come sooner, rather than later, as too much money is already wasted and too many lives are ruined.