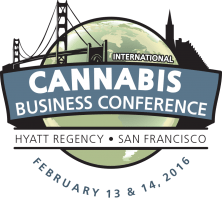 Believe it or not, 2016 is already upon us, so it isn't too late to start planning on your 2016 marijuana events. As usual, our good friends over at The Weed Blog have their finger on the pulse of the cannabis community and have put out a preview of the best marijuana events of 2016. We are very pleased that the International Cannabis Business Conference (ICBC) in San Francisco on February 13-14 has made the list. Be sure to check out the entire list and let TWB know if you have any events to add.
While some may argue that we are biased here at Marijuana Politics, as we help organize the ICBC, but we honestly believe that any objective look at the ICBC, will show that it will be one of the best cannabis events of the year. The conference will provide the latest information on marijuana laws in California and other states and countries, provide a glimpse into new laws likely to take effect in the future, have networking events that will benefit any cannabis industry entrepreneur and will be a lot of fun.
Everyone knows that 2016 will be a pivotal year for the marijuana movement in the United States and around the world. All eyes will be on the legalization battle in California. The timing and place of the ICBC will make the conference a go-to event for the California cannabis industry and impact the debate surrounding the political campaign to end cannabis prohibition in the Golden State.
Even though the ICBC will have extensive coverage of all things related to the California cannabis industry, the event's experts will provide universal information for the cannabis community, from helping you deal with the 280E IRS code; pitching your cannabis business to investors; and giving you insight on how you can help craft effect cannabis legislation wherever you may be. In addition to the information, the event will be more fun than any business conference should be. Cannabis comedian extraordinaire Ngaio Bealum will emcee the event, keeping attendees entertained and the first 500 ticket purchasers get exclusive access to a VIP party with Tommy Chong featuring a performance by hip-hop legend Del the Funky Homosapien.
Check out ICBC's website for more information and tickets and we hope to see you there!