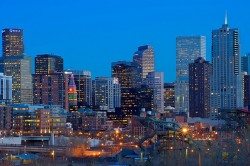 Last month we reported that Denver, Colorado voters would soon have the opportunity to approve the consumption of cannabis at some bars and restaurants. Turns out that won't be happening after all.
Today the activists behind the Limited Social Cannabis Use initiative announced that they are withdrawing the measure, despite having gathered more than twice the number of signatures needed to put it on the ballot this November. Instead they will work in a collaborative effort with city officials and business groups to find a "workable solution" to one of the biggest dilemmas posed by Colorado's legalization of recreational marijuana: Where exactly marijuana users can consume the product.
In a statement today, Vicente Sederberg, LLC–the marijuana-focused law firm that backed the initiative–described the move as pragmatic:
But conversations over the past few weeks have convinced campaign leaders that there is a sincere desire on the part of city leaders to address this issue in a collaborative manner. And these are not just closed-door assurances. As you can see in the Denver Post today, city officials and prominent business groups have been willing to express publicly their commitment to finding a workable solution to this issue. Based on this show of good faith, campaign leaders were willing to forego a contentious ballot initiative fight in order to give the collaborative process a shot. We are optimistic about these discussions, but also know that we can return to the ballot in November 2016 – when the electorate will be far more favorable to our cause – if they do not result in an acceptable outcome.
The Denver Post broke the news last night and provided some additional context, explaining that city officials were already working on compromise agreements that would hopefully provide cannabis users more options when it came to smoking. Under current law, marijuana must be consumed on private residential property:
Activists now will shift to working with city officials and the state restaurant and lodging associations to work out an ordinance that they hope will be considered by the City Council within the next year. The Downtown Denver Partnership, which represents business interests in that area, also plans to take part.

"We're not approaching the withdrawal of this initiative lightly," said [Mason] Tvert, who also was a co-author of Colorado's marijuana-legalizing Amendment 64 in 2012. "We believe that cannabis users deserve the freedom to congregate and socialize to the same extent as alcohol users."
…
Although Denver police have shut down private cannabis clubs, the city's marijuana policy office this year began examining, as an evolving regulatory need, the potential of allowing some social use of marijuana. The idea came up in council races last spring, with some successful candidates open to the idea in part because tourists lack places to consume their purchases legally.
Speaking with the Post, City Councilman Albus Brooks implied that the ballot was too much too soon and that, by pulling the initiative, advocates were allowing the space needed to make a consensus decision involving all the key players:
[Pulling the initiative] "ensures we now have the time and ability to include all interested stakeholders to reach consensus on this important issue. I am committed to working on a broadly acceptable solution."
Should the result be less than satisfactory for the folks behind the initiative, Vicente Sederberg has words of warning for the city of Denver: "There is certainly no fear, as far as campaign leaders are concerned, in pushing the envelope and taking matters to the voters…We are optimistic about these discussions, but also know that we can return to the ballot in November 2016 – when the electorate will be far more favorable to our cause – if they do not result in an acceptable outcome."
Featured Image Credit: Larry Johnson via flickr Creative Commons