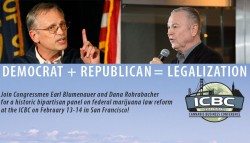 Congressmen Earl Blumenauer (D-OR) and Dana Rohrabacher (R-CA) certainly don't see eye-to-eye on every issue, but marijuana legalization is one topic that brings them together. Representative Rohrabacher, a conservative with a libertarian bent, represents Republican Orange County, while Rep. Blumenauer's constituents hail from progressive Portland, a city that George Bush once deemed "Little Beirut." The two popular officials (both win re-election by large margins) are joining forces to support marijuana legalization at the International Cannabis Business Conference in San Francisco.
This historic event, which includes a keynote address from former Surgeon General Joycelyn Elders, is being held at the Hyatt Regency over Valentine's Day on February 13-14. I, along with many of us here at Marijuana Politics, are proud to help organize the ICBC.
Too often, our national political system is gridlocked as our two major parties find it very difficult to work together. The hyper-partisanship that exists puts even the most common sense solutions out of our reach as it seems that neither party wants to pass any bill that will allow the other party to declare a victory.
As marijuana law reform passes across the nation, more and more elected officials are finally seeing that sensible cannabis law reforms are a bipartisan issue. Conservatives, moderates and liberals can come together to support personal freedom, social justice and economic opportunities by ending cannabis prohibition. Republicans like tax cuts and often follow the lead of anti-tax activist Grover Norquist. Well, Grover Norquist supports 280E tax reform, a move that will allow state-regulated cannabis businesses to deduct expenses just as any other business. Everyone supports safer neighborhoods, and denying banking options for state-licensed marijuana businesses puts innocent people at risk across the nation (not to mention cash-only businesses make tax evasion easier).
Two mainstream members of Congress joining forces for a panel on marijuana legalization is truly an important day for reform. As California looks to legalize marijuana for all adults this November and several more states improve their marijuana laws this year, the work of Congressmen Rohrabacher and Blumenauer on the issue is simply invaluable. Both of these great public servants should be commended and I hope a ton of people join them at the ICBC to help learn about the important work being done both locally and federally and how we can all best work together to finally end the failed and harmful policy of cannabis prohibition.
Tickets for the ICBC are still available, but hurry before they sell out. Discounted hotel rooms at the Hyatt end this Tuesday.
The full press release issued by Congressman Dana Rohrabacher about this historic event:
PRESS RELEASE

FOR IMMEDIATE RELEASE

Contact: Ken Grubbs, 202.225.0145

January 27, 2016

For Immediate Release — Wednesday January 27th

To set up interviews with Blumenauer, call Nicole L'Esperance at 202-225-4811 or email nicole.lesperance@mail.house.gov.

To set up interviews with Rohrabacher, call Ken Grubbs at 202-225-2415

Republican, Democratic congressmen team up for marijuana legalization

WASHINGTON — Two U.S. congressmen — a conservative Republican and a progressive Democrat — are teaming up in California to advocate marijuana legalization.

Rep. Dana Rohrabacher, R-CA, and Rep. Earl Blumenauer, D-OR, will share the stage at the International Cannabis Business Conference in San Francisco Feb. 13-14.

Rohrabacher will discuss his battle to stop the federal government continuing to shut down California dispensaries.

"I co-authored the Rohrabacher-Farr Amendment to stop overzealous federal weed warriors from raiding law-abiding medical marijuana shops," he said, "but we can't stop there."

Blumenauer intends to tell the crowd that full legalization has been successful in his state of Oregon and that California stands to benefit from an overhaul of the state's pot laws.

"In Oregon, fewer people are being arrested for minor marijuana offenses, tax money is being collected, and police are more focused on stopping violent criminals," Blumenauer said. "California can have that, too. Legalization works."

Although none of the various legalization measures vying for California's November ballot have qualified yet, Blumenauer said it's important for advocacy champions, law enforcement, and citizens to join the conversation about a more sensible approach to marijuana laws. Marijuana arrests in California havefallen in recent years, but thousands of people still face penalties for possession.

"Lives are still being ruined by the war on marijuana, even as individual states blaze the trail by regulating and legalizing," Blumenauer said. "California has the largest population in the country, and passing reform here will accelerate the national movement."

Both congressmen are longtime champions of marijuana reform and have been advocating change in federal marijuana laws for more than 30 years.

"We're lucky they are on our side and thrilled to have them at the conference," said International Cannabis Business Conference producer Alex Rogers.

California has a $1.3 billion marijuana market, the largest in the U.S., and legal marijuana is the fastest growing industry in the country, according to The ArcView Group, a cannabis industry investment and research firm. Newly-passed medical regulations are transforming the state's industry, and San Francisco has begun crafting recreational rules in anticipation of full legalization.

###