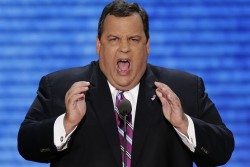 Imagine being forced with the choice of either breaking state and federal law or watching your child suffer. That was the tragic choice put before the parents of Vivian Wilson, who chose to move to Colorado to acquire the medicine needed for her Dravet syndrome. The Wilson family wanted to comply with New Jersey's medical law, but the restrictive nature made that impossible. At a New Hampshire press conference, New Jersey Governor Chris Christie displayed no sympathy for the Wilson family and stated that he would enforce federal law if elected president.

Chris Christie has been consistent in his claims about enforcing federal marijuana law. However, he has been inconsistent about states always following federal law, as Jon Stewart pointed out when Governor Christie has supported gambling in New Jersey. What is rather remarkable about Christie's insistence that federal law must be enforced, besides offering no apologies or sympathy for parents with a severely ill child, is that he seems to forget about prosecutorial discretion.
Prosecutors don't prosecute every single crime, resources dictate prioritization. With all of the issues facing our nation, it is amazing that a president would consider prosecuting and imprisoning parents treating their child's Dravet syndrome with medical cannabis, when that has been proven to work best for their child.
Governor Christie also seems to miss the fact that medical cannabis is still illegal under federal law. As president, will he use the limited resources of the federal government to arrest, prosecute and jail everyone legally cultivating, using and providing medical cannabis under their state law. As POTUS, would he immediately arrest everyone participating in the New Jersey medical marijuana program? Fortunately, for medical patients across the nation, Chris Christie is languishing in the polls and won't be elected next President of the United States. Not often does a candidate appear more compassionate than Ted Cruz or Donald Trump, but Chris Christie (and Marco Rubio) have somehow accomplished that.
Featured photo credit: J Scott Applewhite/AP