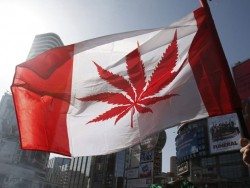 Supporters of cannabis legalization and greater criminal justice reforms celebrated the overwhelming victory of Canada's Liberal Party less than a month ago as the party's platform noted the need to be smarter on crime, including ending the failed policy of marijuana prohibition. Prime Minister Justin Trudeau wasted no time mandating that federal officials embark on landmark changes to the Canadian criminal justice system that had fallen into many of the same deficiencies we experience here in the United States, namely that harsh sentences are disproportionately levied against minorities and the poor.
"You should conduct a review of the changes in our criminal justice system and sentencing reforms over the past decade with a mandate to assess the changes, ensure that we are increasing the safety of our communities, getting value for money, addressing gaps and ensuring that current provisions are aligned with the objectives of the criminal justice system," reads Trudeau's letter to Justice Minister Jody Wilson-Raybould.

***

"Outcomes of this process should include increased use of restorative justice processes and other initiatives to reduce the rate of incarceration amongst indigenous Canadians, and implementation of recommendations from the inquest into the death of Ashley Smith regarding the restriction of the use of solitary confinement and the treatment of those with mental illness," Trudeau wrote in his mandate letter.

***

Overall, the changes mark a fundamental shift to a less "punitive" approach to criminal justice, says Carissima Mathen, a law professor at the University of Ottawa.

"Prime Minister Trudeau has given Jody Wilson-Raybould a very full plate, a very ambitious agenda, a very challenging agenda, but one that if fully realized could really change the face of the justice system in Canada," she said. "So a potentially very exciting set of challenges."
Of course, any substantial notion of criminal justice reform needs to include cannabis legalization, as Democratic Presidential candidate Bernie Sanders has noted, thus Trudeau has tasked three federal ministers to collaborate on a proper plan to regulate marijuana. Ministers of Health, Justice and Public Safety have all been mandated to assist in the implementation of legalizing and regulating marijuana. Minister of Health Jane Philpott told CBC that, "thoughtful Canadians recognize that the current system isn't working," and that she is being briefed by scientists and looking abroad for assistance in developing the proper program as "the world is going to be looking to Canada to make sure we do the job well."
Nations across the globe will certainly be looking to Canada as the country works to reverse the failed consequences of cannabis prohibition and other misguided "tough on crime" policies that don't accomplish its stated goals. Canadian voters wisely voted for real change and the country is now on the path towards policies that are practical and rooted in the foundational principles of a free society.
The United States has finally started to understand the folly of our criminal justice system, a system that has led to a new era of Jim Crow-like policies that have devastated too many black communities, and poor people, regardless of their color. Canada leading the way on marijuana and criminal justice reforms will only help the U.S. move towards more sane policies, hopefully ushering in a wave of sensible, smart and compassionate reforms across the globe.