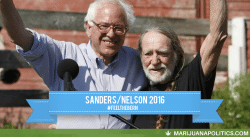 Update: Bernie Sanders in Seattle: "Too Many Lives Have Been Destroyed by the War on Drugs."
Update 2.0: Commits to Criminal Justice Reform Before His Largest Crowd Ever; 28,000 Supporters in Portland, Oregon
Vermont Sen. Bernie Sanders is taking his presidential bid to the West Coast, with a rally tonight in Seattle, tomorrow in Portland and Monday in Los Angeles. During a conference call Thursday ahead of his weekend events Sanders said that his focus on issues like the middle class, climate change and criminal justice reform is resonating with voters, and sets him apart from Democratic primary front-runner Hillary Clinton. The self-proclaimed democratic socialist has included the Drug War in previous campaign speeches, so it will be interesting to hear how he talks about marijuana law reform and the larger Drug War when he rallies on the cannabis-friendly West Coast, where the marijuana law reform movement really picked up steam before spreading to Colorado and really the rest of the nation.
While some, including many libertarian-minded cannabis law reform advocates that I admire, denigrate the Vermont Senator for his "socialist" views. I personally think that his brand of socialism is getting unfairly lumped with totalitarian Communist regimes and even national socialism, when his brand of democratic socialism is really in line with democratic European countries and "socialist" U.S. policies like Social Security and Medicare. Thus far, Sanders is the only mainstream candidate to go on record that he or she will consider legalizing marijuana as President of the United States and his political background clearly demonstrates that he wouldn't stand in the way of states that have legalized marijuana or will soon do so. In fact, he seems like the most likely Democratic or Republican candidate that would actively seek to improve our marijuana laws federally, save for possibly Republican Rand Paul. And with Paul's slide in the polls and Sanders' surge, Sanders seems like the most likely cannabis-friendly candidate that has a chance at the nomination.
Sanders has garnered very large crowds across the country, in both "blue" states and "red" states. He will likely have his largest rallies to date as the Seattle rally is expecting thousands of attendees and Portland will have at least 15,000, with local supporters hoping to push the crowd to 20,000+. The Portland rally had to be moved to the Moda Center (where the Portland Trail Blazers play, formerly known as the Rose Garden) to accommodate all of the folks that have already RSVP'd. Portland held huge rallies for candidate Barack Obama and Sanders' politics fit nicely in the Rose City. I certainly see #FeelTheBern all over social media from my Portland friends and colleagues.
A recent poll has Sanders closing in on Hillary Clinton's support, similar to polling showing the same surge in New Hampshire. While Hillary Clinton is still the odds-on favorite, Bernie Sanders seems to be garnering more and more support as Democratic primary voters learn more about the democratic socialist from Vermont. With Drug War reform and marijuana legalization supported by many Democratic primary voters, Sanders would be smart to capitalize. Stay tuned to Marijuana Politics as we update on Sanders' West Coast tour and all things marijuana-policy related in the 2016 race to the White House.