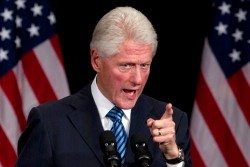 Former President Bill Clinton shocked a lot of political observers with his response to Black Lives Matter activists protesting his 1994 crime bill and the inflammatory language Hillary Clinton used to promote the bill. Clinton not only defended his bill, but his wife's statements about "superpredators" that we needed to bring to "heel."
.@VanJones68 unload on @BillClinton comments about Crime bill: "It was stupid. It was wrong. It was mean spirited"https://t.co/Nz5Y4S97qO

— Salam Morcos (@SalamMorcos) April 9, 2016

The Clintons had both already expressed regret for exacerbating our nation's mass incarceration crisis and Hillary stated that she wished she wouldn't have used such words. Instead of acknowledging their mistakes, former President Clinton decided to double down, angering many, including notable figures such as Van Jones, Michelle Alexander and Russell Simmons.
Russell Simmons @UncleRUSH Demands Apology From Bill Clinton for @Blklivesmatter Comments https://t.co/dIRPYYJBq6 pic.twitter.com/KXv1G5k0th

— TheWrap (@TheWrap) April 8, 2016
While the former president walked back a bit, stating, "I almost want to apologize for it," almost isn't good enough, Bill Clinton should apologize fully and completely. Black communities are reeling from an era of mass incarceration that Clinton's crime bill helped perpetuate and young black people are still stigmatized by stereotypes that Hillary Clinton's language helped inflame.
Bill Clinton says that he "almost" wants to apologize for his remarkable episode yesterday — you know, when he embraced…

Posted by Michelle Alexander on Friday, April 8, 2016
Featured photo credit: (AP Photo/Carolyn Kaster)