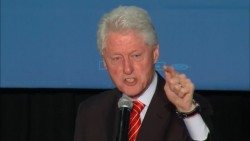 The political debate around Bill Clinton's 1994 Crime Bill is rather complicated complicated as Hillary Clinton championed the bill but Bernie Sanders voted for the legislation, so he can't get a free pass. Sanders does note that he criticized parts of the bill and ultimately voted for the bill because of provisions that he did support, such as the Violence Against Women Act and a ban on assault weapons.
It did seem that both campaigns did agree that the 1994 Crime Bill made mass incarceration worse and that Hillary Clinton's racially-charged language about "superpredators" and how our nation "needed to bring them to heel" was no longer acceptable. Unfortunately, Bill Clinton disagrees and he was wrong to double down on his bill and racist language used by Hillary Clinton.
Former First Lady Hillary Clinton had a fundraiser interrupted by activist Ashley Williams who requested that Clinton apologize for her inflammatory language of the 1990s. As Williams was being escorted out by Secret Service, Clinton stated,"You know what, nobody's ever asked me before, you're the first person that's ever asked me, and I'm happy to address it." To her credit, the Democratic front-runner
later stated
, "Looking back, I shouldn't have used those words, and I wouldn't use them today."
Former President Bill Clinton, when protested by Black Lives Matter activists today, he defended his wife's racist language, instead of simply acknowledging that his wife admitted that she shouldn't have used such damaging words. "I don't know how you would characterize the gang leaders who got 13-year-old kids hopped up on crack, and sent them out in the streets to murder other African-American children," the former president stated. "Maybe you thought they were good citizens — she didn't."
The "Big Dawg" just peed on the carpet. https://t.co/watXn6jn0i Will @billclinton backing "super predator" term:

— Van Jones (@VanJones68) April 8, 2016
The small drug users who were diseased and locked away deserve it? Bill Clinton u owe the black community and black lives matter an apology

— Russell Simmons (@UncleRUSH) April 8, 2016
Unfortunately for Hillary Clinton, Bill may be spouting off at the wrong time as Bernie Sanders has rallied off a series of wins ahead of the crucial New York primary. Former
Secretary Clinton
has
relied upon the black vote
to her primary victories.
Senator Sanders
has fared better among black voters
outside of the South
and
seems to do well
with young black voters. Hillary Clinton will be counting upon the black vote in the upcoming New York primary and beyond, but Bill Clinton didn't do her any favors by defending the racist language she used to support a bill that helped usher in an era of mass incarceration that has been deemed, the
New Jim Crow
.