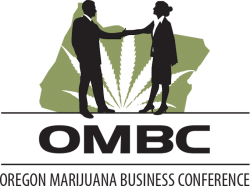 The Oregon Marijuana Business Conference (OMBC) will be featuring attorneys and experts discussing all aspects of Oregon's marijuana laws this Sunday in Eugene. Cannabis industry entrepreneurs, and their attorneys, have to navigate laws, rules and regulations that are constantly changing and the OMBC will provide the information to ensure that business owners, and those seeking to get into the marijuana industry, are prepared. The conference has applied for CLE credits with the Oregon State Bar and three credits are pending; the conference group has successfully been accredited for CLE credits in at past events.
The Oregon Legislature passed new marijuana legislation during the 2016 and 2016 legislative sessions, leading to changes in the medical and recreational systems. Those statewide legal changes have then led to new ordinances passed by many cities and counties across the state, as well as new rule changes by the Oregon Health Authority and the Oregon Liquor Control Commission. Throw in the fact that new amendments have been passed and are on the horizon at the federal level, and it is clear that even the most experienced professional needs updates regarding this fast-moving industry.
Experienced cannabis law attorneys Leland Berger, Paul Loney, Robert Graham and Brian Michals will be covering marijuana laws impacting all cannabis entrepreneurs, including growers, processors and retailers. Aaron Smith of the National Cannabis Industry Association will be speaking about federal law and State Senator Floyd Prozanski will be updating attendees on legislative matters. Staffers from the OLCC will be on hand to walk attendees through the recreational licensing system as well.
In addition to the legal and practical information gained by attendees, the OMBC features a keynote address by Dr. Carl Hart, a renowned addiction and drug expert from Columbia University. Cannabis icon Tommy Chong will closing the conference program with a celebrity interview, where he will discuss his life and career, including his entrance into the cannabis industry. There will also be an exhibit hall, an after-party for attendees and a separate Saturday evening VIP event. Tickets are $199 for the conference, $299 includes the Saturday VIP event.