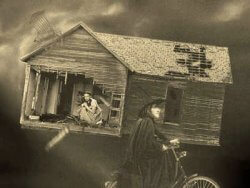 Ever since Oregon legalized cannabis, thanks to the wisdom of over 56% of the voters in 2014, the sky hasn't fallen, but, admittedly a lot of strange things have happened. (But Oregon isn't like Florida crazy, or anything!) And while "Keep Portland Weird" is a slogan, Southern Oregon has its fair share of eccentricities, such as Ashland's lithia water fountains and Sugar Bob, the cannabis-munching deer in the Applegate Valley. And now, you can add a sighting of a weed tornado to the list. (But a weed tornado is much better than a sharknado, right?)
Siskiyou Sungrown cultivates two side-by-side cannabis plots in Southern Oregon, one for medical use under the Oregon Medical Marijuana Program, while the other is for the adult-use legalization system overseen by the Oregon Liquor Control Commission (which will hopefully be renamed the Oregon Liquor & Cannabis Commission soon). Under both the medical and adult-use systems, farmers must report to the state, among other things, how many plants they are cultivating and it is a cannabis plant getting uprooted out of the blue must be accounted for.
"When an employee came to report that a tornado touched down on our medical plot and threw a 6′ x 6′ medical marijuana plant out of the ground, up into the air, over an 8′ fence, and 50′ south into our recreational grow, I surely didn't believe him," stated Michael Johnson, the Chief Operating Officer of Siskiyou Sungrown. "Until I checked the security camera footage and saw the weed tornado."
You can see the security footage for yourself:

#WEEDTORNADO
One of the best things about working in the cannabis movement is that I learn something new virtually every single day. Just when you think that you have seen it all, you witness your first weed tornado. I often advise advocates in other states about Oregon's cannabis regime, what we've learned, and how they can hopefully learn from us. Next month, I'll be discussing Oregon's regulations in another country for the first time in Vancouver, Canada, at the
International Cannabis Business Conference,
and somehow I'll have to work in how Southern Oregon growers had to account for a weed tornado in their monthly reporting to the state.