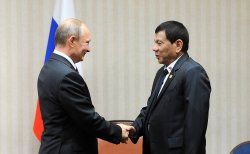 Shockingly, President Trump is applauding and rewarding appalling human rights abuses, especially extrajudicial killings, in the Philippines. That island country's president, Rodrigo Duterte, pictured at left with Russia's Vladimir Putin, approving oversees an illegal and highly lethal "war on drugs." He has said, "Hitler massacred three million Jews. Now there are three million drug addicts … I'd be happy to slaughter them."
Wikipedia reports that about 9,000 people have died, around a thousand deaths a month. Duterte is quoted:
"If you know of any addicts, go ahead and kill them yourself as getting their parents to do it would be too painful."
Trump claims he believes in the "rule of law." Duterte's assertions are both dictatorial and deadly. He expressly gives his police permission to also serve as judge, jury, and executioner. He even financially rewarded extrajudicial killings by police.
Yet Trump is untroubled. Writing in the AP, Jim Gomez quotes Philippine presidential spokesman Ernie Abella:
The discussion that transpired between the presidents was warm, with President Trump expressing his understanding and appreciation of the challenges facing the Philippine president, especially on the matter of dangerous drugs.
The discussions were so warm, in fact, President Trump invited President Duterte to the White House, further rewarding the bloody carnage in the streets of the Philippines. Trump's benign views of Duterte's radical, unlawful, and deadly drug war are horrifying to those believing in the rule of law and the right to life.