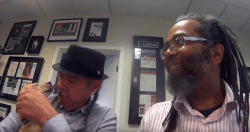 Cannabis visionary and awesome business person Steve DeAngelo (Harborside Wellness dipsensaries, ArcView Group, et cetera) Has a new book out.
The Cannabis Manifesto is his latest treatise about marijuana for today, and tomorrow.
I got a chance to sit down with him and have a nice chat about weed, the law, dabs, and stuff.
Leave a comment.
Purchase Steve's book at www.cannabismanifesto.buzz and get a free website domain!