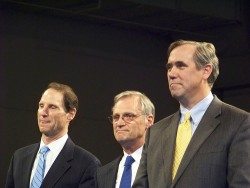 As we have covered a lot, Congressman Earl Blumenauer has been one of the foremost leaders on marijuana law reform at the federal level. The Portland, Oregon, representative has been helpful to the cannabis law reform cause at all levels of government and he is continually working to expand the number of elected officials joining his support for practical improvements of federal cannabis law.
Blumenauer has even reached across the political aisle and divide bringing in Republicans and conservatives to rally around a common cause. Bringing in Oregon's United States Senators Ron Wyden and Jeff Merkley show his commitment to Oregon voters, the marijuana legalization movement and continues to demonstrate how Oregon is helping lead the way. From Congressman Blumenauer's Facebook page:
Joined Senators Jeff Merkley and Ron Wyden this morning for a press conference on the need for legal marijuana businesses to have access to banking services. There is absolutely no justification for forcing thousands of legal marijuana business here in Oregon and across the United States to do their business on an all cash basis. Not only does this stifle the ability of people to actually grow their businesses, this is a serious public safety issue that will only continue as more states reform their laws. Senators Merkley, Wyden and I support legislation that will fix this problem. Congress must take action and pass the Marijuana Businesses Access to Banking Act.
The Marijuana Businesses Access to Banking Act is a common sense proposal that should be supported by every elected official and citizen, regardless of how they feel about marijuana or marijuana legalization. Preventing businesses from accessing banking services forces businesses to keep large amounts of cash, increasing the likelihood of robberies. Thus, even if you don't support marijuana legalization, surely you support safer neighborhoods. Additionally, all-cash businesses can more easily hide profits. Thus, even if you don't support putting an end to cannabis prohibition, surely you support those businesses paying taxes.
Each and every day, support for cannabis legalization increases and we will only see more and more politicians support sensible reforms like the Marijuana Businesses Access to Banking Act. It is good to know that elected officials like Congressman Blumenauer are working hard for our cause and Oregonians should be proud that the Beaver State is a true trailblazer on cannabis law, helping lead the rest of the nation away from Reefer Madness into an era of cannabis sanity.
UPDATE: From Senator Jeff Merkley's Facebook page: