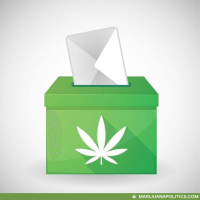 The California and national cannabis community has been waiting on the legalization initiative that would finally legalize marijuana in the Golden State, and that initiative has likely been filed today. A broad-based coalition has united behind a comprehensive legalization proposal spearheaded by billionaire entrepreneur Sean Parker, who made his fortune starting Napster and helped guide Facebook to prominence as president of the social media giant.
The coalition behind the "Adult Use of Marijuana Act" includes both the Drug Policy Alliance and the Marijuana Policy Project. Either DPA or MPP have assisted just about every successful statewide marijuana law reform measure over the last two decades and it is great to see the two organizations working together on this California legalization measure. California campaigns are such huge endeavors that it is absolutely necessary that the cannabis law reform community unites to end prohibition in the largest state in the union. In addition to MPP and DPA, the coalition's press release includes the California Cannabis Industry Association, Dr. Donnie Lymon and environmental attorney Michael Sutton, but interestingly didn't include Sean Parker.
ABC News reports that Sean Parker did indeed lead the effort, however:
Four people who worked on the initiative independently told The Associated Press that the drafting process and early work to enlist sponsors and build a campaign team was spearheaded by Parker, the billionaire technology investor who upended the music business as a teenager by co-founding the file sharing site Napster and served as Facebook's first president.

Those people requested anonymity because they were not authorized to discuss Parker's involvement or to name the other wealthy entrepreneurs expected to fund the effort until an official campaign committee starts raising money and becomes subject to state disclosure laws.

Other potential donors who have expressed interest in bankrolling the work to qualify the measure for the ballot and to mount an election campaign include a political action committee founded by the family of the late Progressive Insurance executive Peter Lewis; some members of the Chicago family that owns the Hyatt hotel chain; and Justin Hartfield, chief executive of online marijuana directory WeedMaps, the sources said.
These are exciting times for the cannabis law reform movement and adding California to the list of places that have ended cannabis prohibition will be one of the most important events in the history of the movement. California's size, economic strength and cultural significance will only lead to more states and countries to consider legalizing and regulating marijuana. As details of the measure emerge and the 2016 campaign hits eyes, many eyes will certainly be on California as the cannabis community looks to continue our tremendous progress.
Today's press release:
FOR IMMEDIATE RELEASE: FOR FURTHER INFORMATION:

Monday, November 2, 2015 Jason Kinney (916) 806-2719

BROAD-BASED COALITION FILES COMPREHENSIVE BALLOT MEASURE TO CONTROL, REGULATE AND TAX RESPONSIBLE ADULT USE OF MARIJUANA

Measure proposed by prominent public health expert & respected conservationist/enviro leader earns support of key organizations

SACRAMENTO –Today, a broad coalition of community and business leaders, physicians, environmentalists and social-justice advocates filed with the California Attorney General's office a comprehensive statewide ballot measure to control, regulate and tax the responsible adult use of marijuana.

The measure (known as "the Adult Use of Marijuana Act") is based on the collaborative input of hundreds of state and local stakeholders and the recommendations of the Lieutenant Governor's Blue Ribbon Commission on Marijuana Policy – and it builds on the landmark regulatory structure for medical marijuana recently passed by a bipartisan majority of the Legislature and signed by Governor Brown (SB 643, AB 266 and AB 243).

The official proponents of the measure are:

Dr. Donald O. Lyman, MD, award-winning physician, member of the California Medical Association and former Chief of the Division of Chronic Disease and Injury Control at the California Department of Public Health and

Michael Sutton, longtime conservationist and environmental attorney, former President of the California Fish and Game Commission and former Vice President of National Audubon Society

"The physician community and the people of California in general have increasingly voiced support for ending marijuana prohibition and bringing greater control, oversight and consumer protections to our marijuana policies," said Dr. Lyman, who authored the California Medical Association's historic 2011 Background Paper on Marijuana. "This is the most comprehensive and carefully-crafted measure ever introduced to control, regulate and tax responsible adult-use of marijuana anywhere in America – and it will make California healthier, make our streets and communities safer and better protect our children."

"A regulated and reliable framework of marijuana policy will bring illicit cultivation out of the shadows and allow us to protect and restore California's precious land, water and wildlife," said Sutton, who also founded the Marine Stewardship Council while at World Wildlife Fund. "It's good for the environment, good for our water supply and good for natural resources."

The land and water protections in the measure received specific praise in joint and individual letters from The Nature Conservancy, Audubon California, California Council of Land Trusts, California Native Plant Society, California State Parks Foundation, California Trout, California Urban Stream Partnership, Defenders of Wildlife, Endangered Habitats League, Pacific Forest Trust, Trout Unlimited and Trust for Public Land.

"The environmental provisions of the Adult Use Act will represent a major step forward in protecting California's rich natural resources in the future," said the Nature Conservancy in an October 29, 2015 letter.

The full measure also received enthusiastic support from respected social-justice and industry organizations.

"This initiative provides a model for the country," said Ethan Nadelmann, Executive Director of the Drug Policy Alliance. "It breaks new ground not just with its pragmatic regulatory provisions but also in directing tax revenue to prevention and treatment for young people, environmental protections and job creation in underserved communities."

"California voters are ready to end marijuana prohibition in 2016 and replace it with a more sensible system," said Rob Kampia, Executive Director of the Marijuana Policy Project. "That is exactly what this initiative will do, and that is why MPP is proud to support it. We look forward to working with the proponents and doing whatever we can to help pass this measure and make history in California next year."

"California has long been at the forefront of economic innovation and legal reform," said Nate Bradley, Executive Director of the California Cannabis Industry Association. "We believe this effort has the support and resources to mount a successful campaign for responsible adult-use. This measure will allow California to take its rightful place as the center of investment and innovation in the cannabis economy. We are ready to become a regulated, tax-paying, job-creating industry that will benefit all Californians."