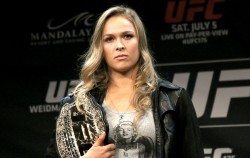 Dominating UFC Champion Ronda Rousey, who we previously noted eats hemp seeds when she is training and has stood up for a fighter punished for testing positive for marijuana in the past, has lashed out against the 5-year suspension of fellow fighter Nick Diaz (which Marijuana Politics blogger Russ Belville just covered.) The outspoken women's bantamweight champion, who has become the highest-paid mixed martial artist in the Ultimate Fighting Championship, spoke out at a press conference in Melbourne, Australia, promoting her next championship bout against the former boxing champion Holly Holm. From MSN:
"I'm sorry, I know no one asked me anything but I have to say something," Rousey said. "It's so not right for (Diaz) to be suspended five years for marijuana. I'm against them testing for any weed at all. It's not a performance-enhancing drug. It has nothing to do with athletic competition, and it's only tested for political reasons so they say, 'Oh, it's only for your safety so you're not hurting yourself when you're out there.' So why don't they test for all the other things that could possibly hurt us that we could be under the influence of while we're out there?

"There's no reason for them to be testing for weed. In athletics, the beautiful thing about it is it separates everything from politics. It shouldn't be involved at all."

Rousey expressed frustration in the fact Diaz's UFC 183 opponent Silva, who failed multiple drug tests around the event for anabolic steroids, was only handed a one-year suspension for his violation. Diaz's repeat offender status played a role in the outcome of his case, but regardless of that, Rousey said the difference in punishments shows an obvious problem.
As MSN reported, Rousey went on to state: "I don't think marijuana should be part of the conversation at all. I think it's an invasion of privacy for them to test for it, and they have no right."
While Rousey thinks that "they should free Nick Diaz" she noted that it was the Nevada State Athletic Commission who levied the unfair suspension and not the UFC. Diaz, a longtime fan favorite and former Strikeforce champion, only has a few major fights left in him. While other fighters have spoken out against this draconian suspension, which really amounts to a lifetime ban, as mma is primarily a young person's sport that doesn't see many fighters competing at the top levels beyond the age of 35 or so, Rousey's star power has certainly elevated the discussion.
Rousey, who has feuded with boxer, and convicted domestic abuser, Floyd Mayweather, has seen her star soar as she has gone mainstream into Hollywood movies and the public consciousness. The conventional wisdom would be that "Rowdy" is taking a risk speaking out on the issue, but with a majority of Americans now supporting cannabis legalization, she is staking out a place on the right side of history and in a comfortable place with the Marijuana Majority. Some have argued that Rousey may go down as the greatest mixed martial artist in history and her fame doesn't seem to be slowing down at all. I sincerely thank Ronda Rousey for speaking out so strongly as her position on cannabis will only add to the momentum for true freedom and equality for the cannabis community.