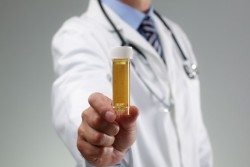 The Nevada State Athletic Commission (NSAC) has suspended mixed-martial arts fighter Nick Diaz for five years, a term the commissioner admitted was essentially a lifetime ban, given Diaz's age of 32 years and the short careers in the brutal sport.
Diaz, an admitted marijuana user with a medical use recommendation from a California doctor, tested positive in one of three urine screenings administered for his fight in the UFC 183 event against Anderson Silva, who tested positive for anabolic steroids in his urine screenings.
Silva was suspended for one year by NSAC for the use of the dangerous performance-enhancing drug – one-fifth the punishment NSAC just handed Diaz for the use of non-toxic munchie-enhancing drug.
The positive marijuana metabolite test was the third failure for Diaz in Nevada. In 2007 Diaz was suspended for six months and in 2012 he was suspended for one year. NSAC chairman Francisco Aguilar alluded to the third strike nature of Diaz's recent test, saying, "This is not just a marijuana issue. This is an issue of marijuana, a lack of being forthright, a lack of cooperation to make the sport better, a disregard for rules — it hurts other athletes just as much."
The conditions surrounding the failed test are strange. Before and after the UFC 183 fight, samples from Diaz were tested by the Sports Medicine Research and Testing Laboratory (SMRTL). This lab found Diaz to be below the 150ng/mL carboxy THC* limit established by the World Anti-Doping Agency (WADA), a limit adopted two years ago by NSAC to match Olympic standards and catch only those competitors who have recently consumed marijuana. SMRTL is accredited by WADA and located in Salt Lake City.
But a third test, between the pre- and post-fight SMRTL tests, was administered by Quest Diagnostics, the nation's leading workplace drug testing corporation. That's the test Diaz failed, which his lawyers find quite suspicious, according to ESPN:
A box titled "observed" was left unmarked by the collector, which means Diaz might have provided the sample unsupervised. He also pointed out Diaz's name appeared on the sample. Labs are not supposed to be able to identify whom samples belong to.

Furthermore, Middlebrook argued the failed test was such an outlier when compared with the other two that it had to be unreliable. According to the Quest test, Diaz registered a marijuana metabolites level nearly five times the allowable limit. In the SMRTL tests, however, his levels were well below that allowable threshold.
So, somehow, before the fight Diaz tests at "well below" 150ng, then tests at almost 750ng, then gets in a fight, then tests at "well below" 150ng? (MMA Junkie reports the second test was "in excess of 300 ng/mL, or double the NSAC's allowed amount of 150 ng/mL.")
Diaz also reportedly was having trouble submitting a clean specimen in the process of getting licensed for the fight. Diaz's manager, Lloyd Pierson, allegedly inquired about a therapeutic-use exemption – a waiver sometimes given for medical use of certain pharmaceuticals that will trigger a positive urine screen result for banned substances – for Diaz's medical use of marijuana.
Athletic commissions have been reticent to offer such exemptions for medical marijuana, even in states like Nevada where it is legal. The commissioners often cite the illegality of marijuana under federal law.
The Nevada State Athletic Commission voted unanimously to end Nick Diaz's Nevada fight career over medical marijuana. But that didn't stop commissioner Anthony Marnell III from being a 71 percent owner in a limited liability corporation applying to own and operate a medical marijuana dispensary in Clark County.
Apparently, it is forbidden for fighters in Nevada to benefit medically from marijuana, but the commissioners who ban fighters for marijuana can benefit financially from it.
* Carboxy THC = THC-COOH = inactive marijuana metabolite and should not be confused with the 5ng/mL active THC limit established for impaired driving in Washington and Colorado.