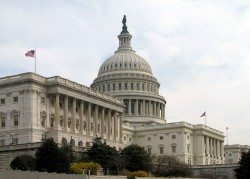 WASHINGTON, D.C. – Banking services for legal marijuana businesses came one step closer to becoming a reality as the Senate Appropriations Committee on Thursday passed the Financial Services and General Government appropriations bill. The bill contained an amendment from Oregon Sen. Jeff Merkley and Washington Sen. Patty Murray to allow marijuana businesses access to banking services. The amendment, which passed 16-14, would prevent federal banking regulators from prohibiting, penalizing or discouraging a bank from providing financial services to a legitimate state-sanctioned and regulated marijuana business. It now heads to the full Senate, and if it passes there it must be reconciled with the House version of the bill.
DENVER, Colorado – Last week, Colorado Gov. John Hickenlooper signed a bill that bans the manufacture and sale of marijuana-infused gummy products shaped like humans, animals, or fruit. The new law goes into effect July 1 and is aimed at preventing the accidental ingestion of medicated gummies by children. However, the new law does still allow for the production of gummies in geometric shapes, such as stars, discs, lozenges, or even pot-leaf shaped. Activists question whether the cosmetic changes will make much difference, with both anti-pot and pro-pot observers noting that an unsupervised child is just as likely to a gummy star as a gummy bear.
LANSING, Michigan – Activists who were rebuffed in their attempt to place marijuana legalization on the ballot are suing the state of Michigan over a signature gathering requirement that was passed to thwart their efforts. MI Legalize, the group that spent $1 million dollars collecting hundreds of thousands of signatures, has named Michigan Secretary of State Ruth Johnson, the state elections director Christopher Thomas, and the Board of State Canvassers as defendants in the suit. The group contends a new requirement to collect signatures within a 180-day window improperly disenfranchised the thousands who signed the petition, without providing an efficient way to challenge their disqualification. The suit asks that the MI Legalize proposal be placed on the ballot and the 180-day rule be clarified.
SAN DIEGO, California – A San Diego councilman is unveiling a proposed municipal ballot measure to implement an 8 percent tax on marijuana sales that could be adjusted upward to 15 percent. Councilman Mark Kersey says the tax would cover the cost of code enforcement and law enforcement with respect to marijuana commerce. Kersey's proposal applies to all marijuana sales, medical and recreational; however, if the Adult Use of Marijuana Act passes this November, it ends the taxation of medical marijuana statewide, leaving San Diego and other cities with recreational taxes only. But AUMA also establishes a statewide recreational marijuana tax of 15 percent, and with an 8 percent state sales tax, that means marijuana could end up with overall taxes of 31 to 38 percent.