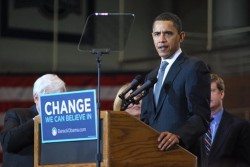 On Tuesday, President Obama made a powerful call for criminal justice reform while speaking at the NAACP's annual convention in Philadelphia. In what the Washington Post called the "formal launch of one of the president's last major legislative campaigns," Obama made the case that such reforms are long overdue and touched on several criminal justice issues, including mass incarceration, solitary confinement, and felon disenfranchisement.
"In far too many cases, the punishment simply doesn't fit the crime," the president noted, speaking in front of an audience of over 3,000 people. "Any system that allows us to turn a blind eye to hopelessness and despair—that's not a justice system. It's an injustice system," Obama said, "And that has to change."
Barack Obama's speech acknowledged many aspects of American criminal justice, such as mass incarceration and drug policy reform, while introducing his plan for legislative reforms:
"For nonviolent drug crimes, we need to lower long mandatory minimum sentences — or get rid of them entirely," he said.

He said he had ordered Attorney General Loretta E. Lynch to start a review of the use of solitary confinement, adding that the country had to do more to combat poor conditions in prisons and prepare those inside to re­enter society.
This speech comes as a part of Obama's latest push to reform the criminal justice system. On Monday, President Obama made headlines by commuting the sentences of 46 non-violent drug offenders, including fourteen prisoners who had been sentenced to life in prison. The White House also announced that Barack Obama is planning a visit to a federal prison in Oklahoma, which would make him the first president to do so while in office.
These latest developments in the president's political agenda come as a great relief to advocates of ending mass incarceration in the United States. While he had openly supported some reforms, such as marijuana decriminalization, while he was still running for office, Barack Obama had not directly tackled the issue of criminal justice reform as president, the Washington Post noting that, up till now, "the president had not spelled out specifically what he expected to see in a bill, leaving the task to lawmakers."
The speech also clearly addressed how the criminal justice in the United States can be "particularly skewed by race and by wealth." In regards to non-violent drug offenses, Barack Obama, who admitted to using drugs like marijuana and cocaine in his youth, spoke of being granted second chances for his mistakes, a privilege that many Americans were not given:
I see those young men on street corners, and eventually, in prisons. And I think to myself, they could be me. That the main difference between me and them is that I had a more forgiving environment, so that when I slipped up, when I made a mistake, I had a second chance, and they've got no margin for error.