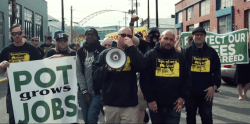 For those that are tired of politics as usual Jessie Sponberg, is a breath of fresh air. The Portland, Oregon, activist is running for mayor against a sitting state treasurer, a county commissioner and twelve other candidates. While Oregon Treasurer Ted Wheeler is considered the favorite, Sponberg has all of mayoral candidates beat, and maybe every candidate in history, in best hip-hop campaign video.
Sponberg is widely known among Portland activist circles as someone who takes on the establishment, fighting for the rights of the homeless, against police brutality and public ownership of Oregon's water supply. I met Jessie during the Measure 91 marijuana legalization campaign when he asked me to be on a segment of his "Fight Church" talk show that he broadcasted on the internet. I have found Mr. Sponberg to be a very passionate advocate that cares deeply for the city of Portland. I was inspired by Jessie to donate clothing to one of his many homeless outreach efforts and came away amazed at the amount of work that he does for the less fortunate in this city.
In my opinion, Portland is very fortunate to have an activist Jessie running against a strong candidate like Ted Wheeler. Both Sponberg and Wheeler voted "yes" on Measure 91 and have touted the economic benefits that the cannabis industry can have for the city of Portland. To my dismay, Multnomah County Jules Bailey voted against legalization, believing that Oregon needed to wait longer before ending the failed and harmful policy of cannabis prohibition. Bailey has also rightfully taken heat for waffling on whether police officers that use deadly force get to receive 48 hours notice before answering any questions from internal investigators. Bailey was also on the receiving end of a blistering critique from Sponberg for not adequately addressing the housing crisis faced by local residents.
Whether Jessie Sponberg can pull off one of the greatest political upsets of all time in the Portland mayoral race is to be seen, we'll know for sure on May 17th (get registered to vote by April 26th, Portlanders). However, if the race is decided by best campaign video, I think that Mr. Sponberg would win in a landslide.
Check out the video, which includes many of Sponberg's activist causes, including a banner that states, "Pot Grows Jobs":