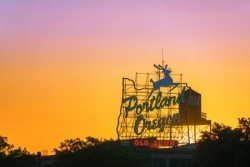 In an unexpected turn, last night the Portland City Council voted 3-1 to grant a permit for the Portland Hempstalk festival at downtown's Waterfront Park. The vote overturns the Portland Parks Bureau's denial of the permit, which they announced shortly after last November's vote to legalize marijuana in Oregon.
The festival's official website is announcing the weekend of September 27 & 28 as the festival dates. However, festival creator and owner Paul Stanford told The Oregonian, "If I had my preference, it would be the first weekend of October," after marijuana sales to all adults becomes legal for Portland's numerous medical marijuana dispensaries.
Both the Parks Bureau and the Portland Police Bureau were opposed to granting the permit. By their estimation, Hempstalk organizers not only turn a blind eye to "rampant drug use" at the event, but even encouraged marijuana consumption just outside the gates to the event.
But Hempstalk supporters argued that the city was holding them to a different standard than other popular alcohol-fueled events, such as the Waterfront Blues Festival that also takes place at the same location. Locals noted that marijuana smoking can be found at almost any large public gathering in Portland, and at least Hempstalk would have no problems with under-aged consumption or over-consumption of alcohol, since it would not be available at the event.
That argument seemed to convince the majority of the city council. Mayor Charlie Hales said, "It sounds like there were some people smoking marijuana there," calling the event "imperfect", but acknowledging that many events in Portland are also imperfect. Commissioner Dan Saltzman called the Park Bureau's decision a "double standard".
The council also took the Police Bureau and the Parks Bureau to task, asking if there had been any complaints from the public about the festival or if it led to an increase of drugged driving arrests, drug overdoses, or paramedic calls. Neither bureau could supply the council with any of the examples given, leaving the council with just the complaints of the Parks Bureau and Police Bureau against Hempstalk.
This Hempstalk will be the tenth incarnation of the event which began at Waterfront Park in 2006 and since has been held at Sellwood Riverfront Park and more recently at Kelley Point Park, both locations that are inhospitable for mass traffic and disabled access. Hempstalk returned to the waterfront last year after a contentious permitting process that started with a denial from the city council that was overturned on appeal.