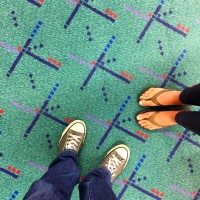 Portland International Airport (PDX), has long been recognized as a great airport by travellers. PDX prohibits retailers from inflating prices at the airport, including Portland's famous food carts that are now doing business at the airport. The airport has such a cult following in Portland, that the airport's carpet is iconic and even was named the grand marshal of the city's Starlight Parade. Portlanders really love the PDX carpet, I mean really, really love it. Now PDX is back in the news and has garnered the favor of the local cannabis community, announcing that they will not prohibit up to an ounce of marijuana from in-state flights.
PDX is allowing travelers to board with the legal amount of marijuana on flights that take off and land within Oregon's borders.

Airport officials said if a TSA agent finds pot on you, they will notify Port Police. Port Police will check to see if you're over the legal limit, check your age and look at your boarding pass to make sure you aren't flying out of the state.

If everything checks out, they'll let you go on so you can make your flight.
As KPTV notes, federal TSA agents aren't really looking for marijuana, but may make you dispose of it if you are flying out of Oregon. What hasn't been reported much in the media, is that the Port of Portland had previously announced that they wouldn't bother state-licensed medical marijuana patients who complied with state law. PDX's announcement is just the latest move in marijuana being normalized in Oregon, as it should be. The cannabis community has long been seeking to have marijuana treated like beer and wine, and this may just be one instance where marijuana is actually treated better than beer and wine, as you are now more likely to be able to have marijuana in your carry-on than a bottle of beer or wine.