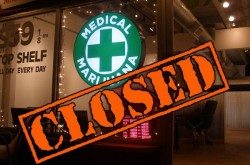 While Oregon patients and concerned citizens managed to stop Senate Bill 844, a measure that would harm sick and disabled medical marijuana patients, the bill has basically been regurgitated as Senate Bill 964. Oregon House Democrats Ann Lininger, Peter Buckley and Ken Helm stood up for patients and the will of Oregon voters when they refused to roll over for the Republican Party's stipulation that city councils and county commissions be able to ban medical cannabis dispensaries without a public vote. Unfortunately, Senate Democrats have decided to cave to Republican Party demands.
Senate President Peter Courtney has taken the extreme measure of creating a new, Senate-only Measure 91 Implementing Committee to pass Senate Bill 964, a bill sponsored by Democrat Ginny Burdick and Republican Jeff Kruse. Senate Bill 964, like Senate Bill 844, still contains some very troubling provisions: placing plant limits upon medical marijuana patient gardens; mandating inspections; creating new fees; along with empowering cities and counties to ban medical marijuana dispensaries. Limiting medical plant counts, placing more burdens upon medical providers and giving a handful of city council members the ability to ban medical cannabis dispensaries will only harm the most vulnerable patients.
Not only does Senate Bill 964 harm the Oregon Medical Marijuana Program (OMMP), it also goes against the will of Oregon voters who decided that they wanted to regulate marijuana instead of continuing the harmful policy of prohibition. Since Measure 91, passed by over 56% of voters, mandates that cities and counties must hold a vote of the people in a general election before banning state-regulated marijuana businesses, Representatives Lininger, Buckley and Helm sensibly stood firm that localities should put a vote before the people. Requiring a public vote has since been advocated by both The Oregon and the Register-Guard.
It is a shame that a handful of Democrats have decided to capitulate to Republicans and support a bill that will harm patients and make it easier for cities and counties to ban safe access to a safe and effective medicine. The Oregonian Editorial Board correctly called it "nonsensical" for the Oregon Legislature to make it easier to ban medical marijuana than recreational marijuana (or recreational alcohol, for that matter). Not only is it nonsensical, but it is also harmful to patients, the OMMP and to Oregonians who want regulated sales instead of a thriving black market. Stay tuned to Marijuana Politics over the coming days as we once again have to spring to action to protect patients, the OMMP and the will of Oregon voters.