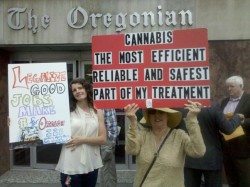 When 56% of Oregonians voted to legalize and regulate marijuana by passing Measure 91 in 2014, they voted for a law that included a provision that the Oregon Medical Marijuana Program would not be impacted. While the legalization law couldn't guarantee that no changes would occur forever, many voters across the state cannot be happy about proposed policies that will hurt Oregon's cannabis patients.
Due to legislation passed by the Oregon Legislature, medical marijuana growers will be prohibited from growing more than 12 plants in urban residential areas and 48 in other areas on March 1st, with some grow sites being grandfathered in for 24 or 96 plants respectively. Legislators also called for some tracking and inspection of commercial gardens and established a rulemaking process by the Oregon Health Authority (OHA). Unfortunately, many of the proposed rules coming out of the rulemaking process are not looking good for medical patients, including an increase in fees.
The Oregonian's Noelle Crombie reports on the fact that Oregon is proposing a $200 per patient fee on licensed medical cannabis growers even though the state program has been generating millions of dollars for the state:
Oregon's proposed fee increase was discussed at a meeting Monday of the health authority's rules advisory committee, which is in the process of drafting regulations for the medical marijuana industry as well as parts of the recreational marijuana industry, such as serving sizes. The fees, if finalized, would go into effect March 1.

***

Oregon's medical marijuana patients have long complained about cost of obtaining a card, revenue that is used to fund the state's medical marijuana program, including dispensary regulation, as well as a wide range of public health efforts.

In the 2013-15 budget cycle, medical marijuana fees generated about $22.1 million. It costs $8.1 million to administer the medical marijuana program, which employs 38 people. The state spends another $8.8 million in revenue generated by medical marijuana fees on other public health programs, including emergency medical services, clean drinking water programs, contraceptive care, school-based health centers and other public health efforts.
As Crombie reports, OHA is also considering a $4,000 fee for medical marijuana processors, a fee that is too high for a business seeking to serve only the patient system. Additionally, the OHA is going above and beyond the intent of the legislature in a few respects, including the requirement that all medical marijuana growers, including those who are themselves patients only growing for themselves, will have to report to the state how much they cultivate and be subject to inspection by government employees.
Unfortunately, the increase in fees; plant limitations; and the reporting and inspection requirements will harm the poorest and sickest patients in Oregon. The state is still working on implementing the recreational system and licensed retail stores won't be open until the end of 2016. New medical regulations are not needed on March 1, 2016 as they will only hurt Oregon's most vulnerable patients, clearly not the intention of Oregon legislators and voters.
If you care about the plight of sick and disabled patients, especially those battling poverty, please contact the Oregon Legislature's Marijuana Legalization Committee and urge them to delay new medical marijuana regulations scheduled to go into effect on March 1, 2016:

sen.ginnyburdick@state.or.us, Sen.LeeBeyer@state.or.us, Sen.JeffKruse@state.or.us, Sen.FloydProzanski@state.or.us,Rep.PeterBuckley@state.or.us, rep.kenhelm@state.or.us, Rep.AndyOlson@state.or.us, sen.tedferrioli@state.or.us, rep.annlininger@state.or.us, rep.carlwilson@state.or.us