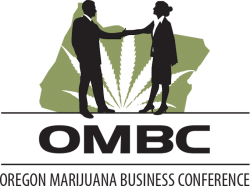 The Oregon Marijuana Business Conference (OMBC) returns to Eugene with the most important and best event yet. The Oregon cannabis industry and patient community are going through dramatic changes, many reforms are for the better, while others have created difficulties. However, it is clear that the future of the cannabis industry is lucrative and those that are informed and can seize opportunities, will have the opportunity to thrive. The fact that the state outlawed cannabis extracts, but then just announced that processing license applications would start on April 1st, re-starting the industry, is just one example of the way the Oregon marijuana law is ever-changing.
Currently, the Oregon Medical Marijuana Program (OMMP) is the basis for not only providing for the needs of patients, but also for the recreational market as well. The state collected $3.5 million after just the first month of taxes collected from licensed dispensaries selling cannabis flower to non-patients. Those sales will only increase as the "early" sale of other marijuana products, such as infused edibles, begins. The OMBC will have the latest information on the changes to the medical program as well as provide information on how advocates can help ensure that the OMMP program can adequately meet the needs of Oregon's patients.
A majority of cannabis businesses are likely to eventually transition to the recreational system regulated by the Oregon Liquor Control Commission (OLCC) and the state agency is currently accepting applications. Licensed recreational retail stores, that will be able to sell tax-free cannabis to patients, should be online in early October. The OMBC is bringing in a panel of OLCC staffers to help walk folks through the application process and prepare you for the statewide regulations.
Unlike most business conferences, the OMBC always emphasizes activism and this year will be no different. Not only is cannabis activism that helps ensure that we keep out of prison and provide safe access to patients, the right thing to do, it is also good business. We will have advocates on hand that are working to end bans cities and counties have placed on marijuana businesses as well as on the front line of passing policies that work for consumers, patients, the industry and our entire state. Senator Floyd Prozanski, a longtime advocate for sensible cannabis policies will be on hand to provide a legislative review and give insight into what is upcoming and how we can help protect the industry and our patients.
No matter your interest in the cannabis industry and community, the OMBC is THE Oregon marijuana conference for you. Not only do we provide the latest information and a great networking opportunities, but you are sure to be engaged and entertained. This year's conference kicks off with the amazing Dr. Carl Hart, one of the most brilliant researchers studying drugs and the brain. You may have seen Dr. Carl Hart dismantling prohibitionists on cable news shows and he is on the cutting edge of our knowledge about how our brains interact with drugs. We conclude the event with the iconic Tommy Chong, whose celebrity interview will have you laughing and learning about his career in entertainment and business.
Early bird tickets are available until April 8th. So book now before our best event sells out. As usually, we are at the Eugene Hilton, and you can book now to get a special rate.
Here's the program for the upcoming OMBC:
9:00 AM

Keynote Speech with Dr. Carl Hart

Dr. Carl Hart is a neuropsychopharmacologist at Columbia University, where he conducts research and teaches undergraduate and graduate courses in neuroscience, psychology, and pharmacology.

10:00 AM

Local Ordinances & Activism

While we have made many gains statewide, local regulations can threaten our medical patients and burgeoning cannabis businesses. 100 cities and counties have placed bans on marijuana businesses, with 47 of those communities holding elections on the issue. Overturning the ban on marijuana businesses is on the ballot in Klamath and Grant counties this May and more bans will be voted on this November. The Jackson County cannabis community has dealt with a multitude of interference from local politicians, from proposed bans to egregious land-use regulations. Even in supposedly progressive Portland, the local cannabis industry is dealing with exorbitant licensing fees and arbitrary regulations. This panel will provide an update on what is happening in Klamath, Grant, Multnomah and Jackson counties and how we can all help make a positive difference in these and other local communities.

11:00 AM OLCC Licensing & Compliance

A wide variety of topics will be covered from initial licensing- including the different levels of licensing-as well as requirements for farming, retail, wholesale, manufacturing and processing. Also covered will be the new micro canopy license that allows medical growers to join the recreational market but continue to care and provide for their patients. We are excited to provide this hands on Q and A opportunity with these regulatory bodies. The business compliance panel will be made up of OLCC specialists as well as a representative of Framwell, the company responsible for tracing marijuana products in Oregon. This panel will present an excellent view for people to know how to move forward in this blossoming industry.

1:15pm

Federal Update (Aaron Smith)

While states are moving forward with reforms, much-needed action is also occurring at the federal level. Aaron Smith, director of the National Cannabis Industry Association (NCIA) will provide the latest on potential national reforms from taxes to banking to ensuring that federal officials don't interfere with state's marijuana systems.

1:30pm

Matt Rowe- Mayor of Coquille

Mayor of Coquille, Matt Rowe is the youngest serving Mayor in Oregon. He is currently running for Treasurer of Coos County. This rising political star holds a fresh take on cannabis policy reform and is always an extremely informative and entertaining speaker.

1:45pm

Legislative update (Floyd Prozanski)

The Oregon Legislature has made numerous changes to Oregon's marijuana laws. We have made progress on reducing criminal penalties, expunging past offenses and allowing medical growers to cultivate an adequate number of immature plants. However, some changes have had serious unintended consequences, posing issues for patients, extract processors and Jackson County rural residential farmers. Longtime ally Senator Floyd Prozanski will review what has occurred, talk about what is on the horizon and answer your burning questions.

2:15pm

Growers and Retailers

The foundation of the Oregon cannabis industry has been growers cultivating for patients. Large grow sites have cultivated for multiple patients, but new medical rules have placed limits on how many plants can be on one grow site. Growers are now able to license with the OLCC and will soon cultivate canopy limits for recreational customers. New rules also allow growers to grow for the recreational system while continuing go grow for patients and the rules are still being worked out. Here from an experienced grower who will discuss how things are now and how growers must transition to the new system. A cannabis industry attorney will also be on hand to answer your questions about how to comply now and into the future.

More than 400 retailers are licensed to sell medical cannabis, showing both great possibility for the industry, but also a saturation on the market. Most dispensaries will likely move into the OLCC recreational market, but new rules will allow retailers to serve both patients and non-patients alike. This panel will include a dispensary owner surviving the current system and looking forward to thrive in the upcoming system, and as usual, we'll have an industry attorney on hand to answer your questions.


3pm Processors

Oils, edibles and other products will be a huge market for Oregon, but new rules and regulations have thrown a wrench into the system. Currently retailers aren't allowed to purchase new medical products extracts that aren't already on the shelves since the Oregon Health Authority has licensed processors yet while we can't expect OLCC stores open until October. Hear from experienced processors and lawyers as they discuss the muddled situation now and how the industry will move forward.

3:45pm

Testing, Labeling and Branding

Oregon is moving beyond just accepting any testing lab's results that marijuana products have passed a test for mold, mildew and pesticides. New testing lab regulations are in place and while branding is so very important, businesses must be sure to follow state labeling laws. Our panel will have the latest on all of the news rules and regulations to help you ensure that marijuana products are tested and labeled properly.

4:30 PM

Tommy Chong Celebrity Interview

The legendary stoner known best for his comedy act Cheech & Chong and string of movies beginning with "Up in Smoke" in 1978 will sit down with CelebStoner publisher and Freedom Leaf editor-in-chief Steve Bloom for a lively discussion about his life and career.