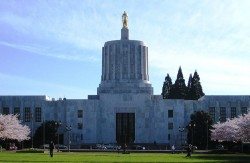 The Oregon cannabis community converged upon the State Capitol Building to fight for patients' access to medical marijuana Monday night as the Oregon Legislature held a public hearing on both House Bill 3400 and Senate Bill 936. While many headlines focus upon the plant limits being debated in Salem, patients and advocates rightly put the focus where it belongs: on patients suffering from severe and debilitating medical conditions, many of whom are also battling poverty. I was very proud of the medical marijuana advocates that testified and showed their support for patients' access and to have joined them. I spoke as officially neutral on HB 3400 & SB 936, commenting that sensible oversight and regulations are necessary, but that we need to ensure that patients have safe access to medicine.
The Oregonian was at the Oregon State Capitol and even quoted yours truly:
Patients and growers flocked to the Capitol for a meeting of the Legislature's Joint Committee on Implementing Measure 91, arguing that proposed restrictions would do little to stem the flow of pot to the black market, as lawmakers contend.

Instead, they said, the limits would create statewide shortages and make it more difficult for legitimate patients to get their medicine.

"It will fall on the most vulnerable patients who are battling poverty, who will lose their grower," said Anthony Johnson, chief sponsor of the Measure 91 campaign. "I encourage oversight in growing but not to restrict patients' access."
While everyone completely understands the need for oversight and sensible regulations, fewer patients' gardens isn't necessary to achieve our goals. Oregon legislators are understandably concerned about complying with the federal Cole Memo and avoiding federal intervention. However, nothing in the Cole Memo discusses the need to reduce the number of plants allowed in a cannabis cultivation site. What is necessary are proper rules and regulations to help ensure that the illicit market is diminished. Oregon is well on its way to developing a model marijuana system, but patients' safe access to medical cannabis isn't necessary to achieving that goal.