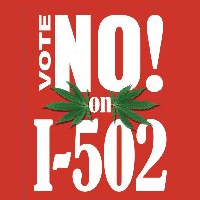 As I prepare to speak at my tenth Seattle Hempfest, I think back to the Hempfest three years ago. No state had yet legalized marijuana, but Washington State had I-502 on the ballot. How exciting it would be to be surrounded by fellow legalizers on the cusp of legalization!
Then I got there to find booths plastered in red "No on I-502" promotion. Red T-shirt-wearing "No on I-502" volunteers were spreading anti-legalization propaganda. Numerous speakers onstage warned of the peril about to befall Washington if the dreaded I-502 were to pass into law. Hempfest itself was divided over the initiative.
With the benefit of three years' hindsight, let's examine some of the quotes and claims the "No on I-502" campaign against the reality that transpired after I-502 passed.
I-502 WILL NEVER SURVIVE THE FEDS!
One reason given to oppose legalization in 2012 was that the federal government would never allow it, so all the promises of tax revenue and pot shops were false.
"The Feds have made it clear they will intervene if states enact legalization measures," – No on I-502 Campaign Head Steve Sarich (June 24, 2012, Northwest Leaf)

"[Courts will leave I-502 with] one ounce decriminalized, [but] nowhere legal to buy it." – Attorney Douglas Hiatt (October 7, 2012, The Olympian)

"Distribution will be easily rendered invalid in federal court. This will result in no tax revenue being raised." – Sensible Washington Head Anthony Martinelli (October 20, 2012, The Spokesman-Review)

"I truly believe that when this law passes, a legal challenge by the Feds will pretty much void all of it, leaving us nothing but a really bad DUI law." – Attorney Jeffrey Steinborn (March 7, 2012, The Stranger)
RESULT: There are currently 155 active retail marijuana licensees in Washington, with 15 storefronts operating in Seattle alone. Washington State has raised $70 million in tax revenue.
I-502 WILL INCREASE PRICE OF WEED TO $600/OUNCE!
But at the same time "No on I-502" was claiming there would never be any pot shops, they were also claiming those pot shops would be charging insane prices for marijuana.
"…prices for medicinal AND recreational cannabis would go up by around 50% – 75%" – Safe Access Alliance's Ezra Eickmeyer (August 10, 2012, Toke of the Town)

"Lawyer and legalization activist Jeffrey Steinborn predicts that prices of pot will jump by 150%." – Chris Robertson (October 15, 2012, Bellevue College Watchdog)

"If you're happy to pay $600-$700 an ounce for 'legal' state schwag to help fund 'social services', like more law enforcement to enforce this new law, just come right out and admit it." – Steve Sarich (March 2, 2012, commenting in The Daily Chronic)
RESULT: While there was an initial price spike due to mismanaged supply, prices lately are down over 40%. I recently purchased an ounce of highly-taxed Washington weed for $225. The website PriceofWeed.com on October 25, 2012 listed high-quality marijuana at $251.62 per ounce average. PriceofWeed.com today is listing high-quality marijuana at $232.04 per ounce average.
I-502 WON'T AFFECT THE MEXICAN CARTELS!
One of the stranger arguments against legalization was that it wouldn't eliminate the black market for marijuana. So, what, we shouldn't reduce it any?
"I-502 will have absolutely no effect on criminal organizations in Mexico or anywhere else." – Douglas Hiatt (October 7, 2012, The Olympian)
RESULT: Mexican cartel drug farmers are giving up cannabis planting in favor of opium because legalization in 2012 has so depressed the price and demand for Mexican weed.
Join me Thursday for Part 2: It Will Set the Stage for Bad Legalization and Friday for Part 3: It's a Trick to Make More Marijuana Arrests. With marijuana legalization coming to your state soon, it would be wise to learn the scare tactics fellow pot smokers might use to make you vote to remain a criminal.