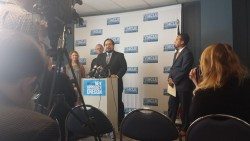 I had the honor of speaking at a press conference today, along with Congressman Earl Blumenauer; David Rogers, Executive Director of the ACLU of Oregon; and Leah Maurer, a long-time friend who founded Moms for Yes on 91 and is co-chair of the Portland chapter of Women Grow. The press conference set the stage for July 1st, the kick off to marijuana legalization in Oregon and focused on how far Oregon has come on marijuana policy, but also to note that we still have work to do still regarding marijuana laws and greater Drug War reform.
Being back at the ACLU office in downtown Oregon brought back memories of drafting Measure 91 as the ACLU's conference room hosted many brainstorming and drafting sessions. The Oregon cannabis community has many organizations and leaders and not all of them get along all of the time, so there can sometimes be some tension when Oregon activists get together to collaborate on a marijuana measure. The ACLU provided a safe haven for all activists, an honest broker that could host the meetings, without anyone feeling that a certain party had a "home-field advantage". These drafting sessions were long, sometimes tedious and sometimes got very exciting as passions could run very high at times. In the end, we developed a measure that the vast majority of the Oregon cannabis community could support, a great achievement in itself, and it couldn't' have happened without the ACLU.
Congressman Blumenauer kicked off the press conference, focusing on the progress being made in Congress and the need for more reforms. The congressman praised Oregon's efforts, calling Measure 91 "the best legalization measure in the country" and noted that the state is helping lead the nation in marijuana law reform. I was up next, and broke the news to many reporters that Senate Bill 460 had passed the Oregon Senate 23 to 6 earlier in the day, moving Oregon one step closer to regulated sales thru existing medical dispensaries, starting on October 1st; the bill now moves onto the House, where it is expected to pass. I spoke about how Measure 91 will improve the lives of tens of thousands of Oregonians, create jobs and generate revenue for the state, but that we aren't done. Marijuana laws still need to be adjusted to be in line with alcohol laws and the Drug War still hurts too many lives.
Leah Maurer was next, stressing the fact that, as a mother of three boys, she knows that regulation is a better policy than prohibition. And finally, David Rogers brought it home by reminding all of us about the racist implications of marijuana prohibition and the Drug War; despite the facts that marijuana is used at the same rate across races, people of color are much more likely to be arrested and sentenced to jail.
I have been fortunate to have many proud moments in my cannabis activism career, and today's press conference was certainly one of them. I could not be happier that Oregon voters chose a new approach for our marijuana laws and will help lead the nation in ending cannabis prohibition. I was glad that we had the opportunity to talk to the media about how far Oregon has come, but also about how far we still need to go. Even after legalizing marijuana, there will likely still be a disproportionate number of arrests and citations for non-compliance levied against people of color and the poor. And the Drug War is much bigger than just marijuana, of course. Too many nonviolent addicts and low-level offenders are suffering in prison, instead of getting the treatment, education and employment opportunities they need. I look forward to working each and every day until the War on Drugs, a war waged upon too many nonviolent citizens, has ended.