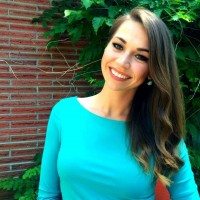 Less than a month after coming out of the cannabis closet, I found myself a part of the world's largest annual gathering centered around cannabis: Seattle Hempfest. After several years of working as a local news reporter and anchor and hiding my cannabis use at all costs, I was suddenly speaking to hundreds of people about exactly that.
Calling my Hempfest experience surreal would be an understatement. Being my first-ever cannabis-related event, it was pretty great being thrust into the mix.
Starting with the VIP Party Friday night, I quickly realized I was surrounded by history-makers in the legal marijuana movement. I saw and met a number of noteworthy people, including fellow Eugene resident, Elvy Musikka.
Believe it or not, Elvy receives legal marijuana from the Federal Government, and has since 1988. (And she's not alone, three other people are also still a part of the Compassionate Investigational New Drug program.) Elvy is living with glaucoma and fought for the right to use medical cannabis. In the end, she won, and has been smoking government-rolled marijuana cigarettes ever since.
I had never heard Elvy's story before, and it was humbling. Being around her and all the other activists made me feel very grateful. It was the 24th Annual Seattle Hempfest, and I am 25 years old. To think that many of the people I met and talked with have been fighting for cannabis for my entire life, or longer, just encouraged me to continue to push for the changes that they've made possible.
When I spoke on the main stage, the message of my speech was if you can talk about cannabis… you should talk about cannabis, because exposing people to the truth about the plant is the only way to bring about social and political change.
That has been my message from the beginning, but I've only been able to share it because of what people before me have accomplished. People like Keith Stroup, the founder of NORML, were instrumental in getting us this far, and at Hempfest, suddenly he was shaking my hand. He walked up to me after I spoke, introduced himself and complimented me on my message. What an incredible moment.
Without the sacrifices of many people like Elvy and organizations like NORML, I would not have been able to speak out. Being around them reinforced my drive to fight for the acceptance of cannabis use and I was honored to be on a panel with other advocates, speaking out against the unfair discrimination that the cannabis community faces today. I hope that I will be part of the generation of activists that puts an end to marijuana prohibition on a global level. Seattle Hempfest was my first cannabis-related event, but it certainly won't be my last.
Photo credit at Hempfest: Doug McVay 2015