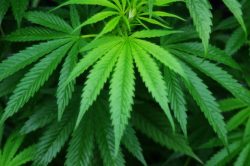 The raw beneficial power of medical marijuana is actually lowering Medicare prescription use of opioids and antidepressants! In states where cannabis has become legal and available for medical use, Medicare users are choosing this safer substitute. So says a new study reported in Health Affairs, "Medical Marijuana Laws Reduce Prescription Medication Use In Medicare Part D." Prescriptions for conditions where marijuana also provides treatment have actually dropped in medically legal states!
This dramatic harm reduction and cost reduction once again forcefully belies marijuana's Schedule I definition of "no medical use."
Instead, cannabis is perhaps the most medically useful of all drugs. It is certainly the safest, being perhaps the only drug that cannot actually kill. Any switch from medically unnecessary and dangerous pharmaceuticals to non-toxic cannabis reduces harm, provided of course, it solves the medical problem. It does indeed seem to aid in solving the problem of pain, and helps reduce, and in some cases even end, use of the most dangerous drugs, the — opioids — with the substitution of safe medical marijuana.
Both money and lives are being saved. An NPR report on the study noted reduced use of opioids, anti-anxiety, pharmaceutical drugs in general. Prescriptions did not drop for conditions not helped by cannabis.
This study shows the healing power of cannabis to revolutionize the medical care system.
Yet some legal states still have only grudgingly approached medical cannabis, mandating that it be only the last option, its use restricted only to those with severe medical conditions. For example, Florida's upcoming medical marijuana ballot is entitled with the restrictive "Use of Marijuana for Debilitating Medical Conditions."
In reality, cannabis should, in many cases, be the first choice of medication for a wide range of conditions, debilitating to trivial, across a broad swath of patients. Only if cannabis does not help, then should riskier pharmaceutical drugs be added or substituted. Life-endangering opioids, for example, should not be the first choice for some types of pain, but used or augmented in the event pain relief with cannabis is inadequate. The same goes for anxiety, anti-depressant, and sleep medications. Such an approach could revolutionize America's health care system, dramatically cutting costs and harms while providing patients with a remarkably safe, inexpensive, and beneficial medicine.
A partial list of conditions cannabis does seem to help:
Nausea; Chemotherapy

Chronic Pain

Spasms and Tics; Multiple Sclerosis; Spinal Cord Injuries; Tourette's Syndrome

Appetite Stimulation; Wasting Syndrome; Anorexia

Glaucoma. (The study showed no reduction in prescriptions for glaucoma medication.)
Anxiety Disorders; Post Traumatic Stress Disorder PTSD

Intestinal Dysfunction

Epilepsy
Hepatitis C
Sleep
Diabetes
Cancer

Breast, Prostate, Lung, Skin, Pancreatic, Bone, Glioma, Lymphoma, Oral, Head and Neck, Thyroid

Inflammation, Rheumatoid Arthritis, Inflammatory Bowel Diseases; Ulcerative Colitis, Crohn's Disease

Neuroprotection, Alzheimer's, Amyotrophic Lateral Sclerosis (ALS) Parkinson Disease

BMI and Waist Circumference
Such an approach to health care, or even the Medicare data results reported in this study, make for powerful enemies in the pharmaceutical industry. The medical benefits of cannabis jeopardize some of the hundreds of billions spent on pharmaceutical drugs. Traditional medical training, which still seldom includes any mention of medical marijuana is also threatened.
Medical legalization of marijuana has, in most cases, been mandated into law by the voting public in initiatives, with state legislators and the medical community only slowly coming on board. Now though, state legalization programs are thriving as "laboratories of democracy."
These states are proving, even in Medicare data, the healing and harm-reducing benefits of safe and inexpensive medical marijuana.