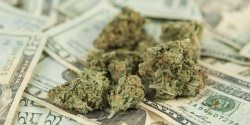 A California medical marijuana union organizer is accused of bribery and union-rigging, according to an FBI complaint filed on Monday. According to the document, Dan Rush, a Bay Area organizer involved in unionizing medical marijuana workers, used his influence to manipulate unions' decisions in exchange for bribes from stakeholders in the marijuana industry. Rush was indicted on charges of "labor union conflict of interest payments" and "honest services fraud," and a federal warrant was issued for his arrest.
Prior to his indictment, Dan Rush was an organizer with the United Food and Commercial Workers (UFCW), which represents over a million workers in the United States and Canada. He was also involved in California's medical marijuana politics, working on the regulation dispensaries in Los Angeles and serving on the board of directors of the Coalition for Cannabis Policy Reform. Known for helping Bay Area medical marijuana workers get unionized in 2010, Rush had made a name for himself as a "central figure" of California's medical marijuana movement.
According to the FBI's affidavit, Dan Rush used his influential position within the UFCW to rig the union's processes in favor of medical marijuana dispensary owners. The document alleges that Rush received "payments of money or other things of value" on behalf of dispensary operators whose employees were members of the UFCW, and thus directly impacted by the union's decisions. Invoking federal labor statutes, the FBI argues these payments constitute an unlawful conflict of interest, which Rush exploited to subvert unionization for personal gain.
The FBI's document also suggests that Dan Rush used marijuana's "grey market" status to get out of paying back a six-figure private loan. In 2010, Rush borrowed $600,000 from a marijuana dispensary owner so he could open his own medical marijuana business, but ended up using the money to pay off prior debts and gamble in casinos. Four years later, he claimed he wouldn't be able to pay back the loan, arguing "that the original cash — stemming as it did from medical marijuana, pre-2010 — was unclean, and any attempt to recover the loan might not go so well."
Instead, Rush offered services in return. Specifically, he offered to rig the union organizing process in Las Vegas, where Kaufman wanted to open a dispensary, against workers and for the employer in Kaufman's favor.
Dan Rush faces 20 years in prison for the first charge of "labor union conflict of interest payments" and five years for the second charge of "honest services fraud." These accusations are the result of a lengthy federal investigation that began as far back as 2010, when marijuana industry members tipped off the authorities, and involved "recorded telephone conversations and wires worn by witnesses including Marc Terbeek, Rush's attorney who started cooperating with the FBI in January of this year, but may also be prosecuted."
Following the release of these accusations of corruption, Dan Rush was removed from his position as board member for the Coalition for Cannabis Policy Reform, and was reportedly fired from the UFCW. As of this writing, it is not known whether or not Dan Rush has been placed in custody. Seeing as Dan Rush has not issued a statement in response to his indictment, the FBI's claims could very well turn out false. Should Dan Rush be guilty, however, this story would be remembered as a permanent stain on his history of fighting for the rights of marijuana workers, many of which labor without union representation.
The FBI's affidavit, now unsealed, is available in its entirety online via Scribd.
Longtime California cannabis activist, Todd McCormick had this to say on his Facebook page:
The indictment of union representative Dan Rush exposes more than just the blatant corruption going on in the industry's grab for retail permits, it also exposes the subtle corruption imposed by the city of Oakland in the way it regulates Cannabis clubs. Initially, Oakland allowed for 4 clubs and then expanded to 8, and while that sounds pretty progressive, I consider it pretty interesting and it seemingly rather unbalanced, that there are (as of October 12th, 2009) 1037 liquor licenses in the city of Oakland: 565 of which are in the hands of restaurants, bars and nightclubs, 146 in the hands of nonretail, think manufacturers and distributors, and then another 326 actual retail stores in a city of just just over 400,000.
The type of corruption exposed today emphasizes that we need to be fighting for equal rights, and not limited rights, because it should be as easy to open a Cannabis dispensary for medical use in compliance with state law, as it is to open an adult use liquor store in compliance with state law.

With a ratio of 1,037 liquor licenses to 8 Cannabis dispensary permits, I am not surprised there is corruption. Imagine if Oakland limited it's liquor licenses to only 8: corruption would be even more rampant than it already is.