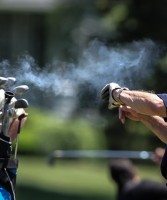 We all know the usual stereotypes about stoners, being both dull-witted and lazy couch potatoes. Well, the cannabis community does like to point out the fact that Carl Sagan was an admitted marijuana smoker as was Choom Gang member Barack Obama and both went on to great success academically and in their careers. There are also great examples of sports champions who used marijuana as well. Super Bowl champion lineman Mark Stepnoski;Heisman Trophy winner and NFL rushing champion Ricky Williams; gold medalist Michael Phelps; and the fastest-man in world history, Usain Bolt, immediately come to mind. While golfers aren't exactly known to be the greatest athletes, they are certainly more energetic than Floyd, Brad Pitt's iconic stoner character in True Romance.
The Greener Side's 2nd annual Oregon Cannabis Classic shatters both the lazy and unprofessional stereotypes by bringing the cannabis community to the Mallard Golf Course this Friday. Despite a fire at the course last Monday, the show is going on. The Oregon Cannabis Classic raises money for the Multiple Sclerosis Society of Portland and gives those in the cannabis community and industry to network and have fun. The tournament uses a scramble style for teams, where each team uses the best shot from its members, so it works for a variety of skill levels.
Joseph and Chelsea Hopkins, owners of the Greener Side, are two of the best people you will ever meet, so I'm not surprised that they have organized this charitable event. The Greener Side is an amazing dispensary that puts its patients first and foremost, providing special deals every Tuesday, discounts for veterans and hosting vendor days so patients can interact with growers and processors in person. You likely won't have anything more fun to do this Friday, so get your tickets now and hit the greens this Friday to shatter those stereotypes for a great cause. You can learn more about the Greener Side and the Oregon Cannabis Classic on Facebook as well.