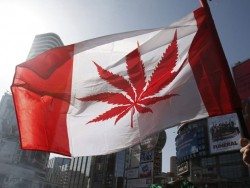 UPDATE: The Canadian Broadcast Company projects a victory for the Liberal Party. More analysis tomorrow on what this means for cannabis legalization in Canada and its impact beyond its borders. From the CBC:
Justin Trudeau will be Canada's next prime minister after leading the Liberal Party to a majority government win, dashing the hopes of Stephen Harper, who had been seeking his fourth consecutive mandate, CBC News has projected.

This will be the second time Canada will be led by a Trudeau, as the Liberal leader follows in the footsteps of his father, Pierre Elliott Trudeau. The Tories will form the Official Opposition, moving Tom Mulcair's NDP to third-party status.

It's a stunning turnaround for the Liberals, who held only 36 seats at the time of Parliament's dissolution. The Conservatives held 159 seats in the 308-seat House of Commons and the NDP had 95, with another 18 seats either vacant, held by Independents or shared between the Green Party (two seats) and the Bloc Québécois and a splinter group.
The United States has seen great progress across the country, with legalization measures passing in four states and our nation's capital and polls showing majority support among voters. Several more states are poised to pass legalization in the coming years, and each state that legalizes cannabis adds more federal legislators with pressure to satisfy his or her constituents that demand true freedom and equality for the cannabis community and industry.
Several state Democratic parties have endorsed marijuana legalization, but neither the national Republican or Democratic parties have added legalization to their national platforms at this time. In that regard, Canada has advanced past the U.S., as the Liberal Party has added marijuana legalization to its agenda.
From Vice:
In an attempt to sweep up the green vote, Liberal leader Justin Trudeau announced this week that if elected, his party will work to legalize marijuana "right away."

***

Trudeau has previously said pot prohibition has resulted in 475,000 people with criminal records since the Conservatives came into power in 2006, and criminalization of the drug costs the justice system $500 million a year. But until now, the Liberal leader has kept relatively quiet on the issue while on the election trail — even when his political adversaries have taken swipes at him with pot jokes.
From the Liberal Party's website:
We will legalize, regulate, and restrict access to marijuana.

Canada's current system of marijuana prohibition does not work. It does not prevent young people from using marijuana and too many Canadians end up with criminal records for possessing small amounts of the drug.

Arresting and prosecuting these offenses is expensive for our criminal justice system. It traps too many Canadians in the criminal justice system for minor, non-violent offenses. At the same time, the proceeds from the illegal drug trade support organized crime and greater threats to public safety, like human trafficking and hard drugs.

To ensure that we keep marijuana out of the hands of children, and the profits out of the hands of criminals, we will legalize, regulate, and restrict access to marijuana.

We will remove marijuana consumption and incidental possession from the Criminal Code, and create new, stronger laws to punish more severely those who provide it to minors, those who operate a motor vehicle while under its influence, and those who sell it outside of the new regulatory framework.

We will create a federal/provincial/territorial task force, and with input from experts in public health, substance abuse, and law enforcement, will design a new system of strict marijuana sales and distribution, with appropriate federal and provincial excise taxes applied.
The Conservative Party opposes legalization, providing a stark contrast with the Liberal Party. The Conservatives have held power for a decade, but polls show that Canadian voters are looking for change. The National Post reports:
Justin Trudeau's Liberals have enjoyed a surge in voter support in the closing week of the election campaign and have strong momentum as Canadians prepare to cast their ballots Monday, a new survey conducted for Postmedia suggests.

The poll by Mainstreet Research, conducted Wednesday and Thursday, found that the Liberals had a five-point lead among decided and leaning voters over their nearest rivals, Stephen Harper's Conservatives.

***

Mainstreet president Quito Maggi said in an interview Friday that if the polling numbers carry through to election day, the Liberals could be on the "razor's edge" of winning a majority.
The Toronto Star endorsed the Liberal Party and its progressive agenda:
Canadians are a decent, progressive people who deserve a decent, progressive government that holds out the prospect of a better and more constructive future.
Fortunately, when they go to the polls on Oct. 19 voters will be able to choose a strong, hopeful alternative to the Harper Conservatives: Justin Trudeau and the Liberal party. They have crafted an alternative vision for the country that deserves the support of those who believe Canada can be more generous, more ambitious and more successful.
After nine and a half years of the Conservatives, the need for change is urgent. Over the course of this long campaign, Stephen Harper has offered voters simply more of the same – more regressive social policies, more whittling away at government, more settling for a stagnant economy that leaves too many behind. And, of course, more division and rancor as the Conservatives play shamelessly on public anxiety about terrorism, refugees and, of all unlikely things, the niqab.
Liberal Party leader, Justin Trudeau, the son of former Canadian Prime Minister Pierre Trudeau, first announced his support for legalizing marijuana just over two years ago and admitted to using cannabis in 2010. Contrary to conventional wisdom, admitted to using cannabis and supporting legalization, have not been political liabilities for Trudeau and the Liberal Party. In fact, it looks like Canadian voters are ready for real change in marijuana policy and if the polls hold up, add to the the momentum for ending cannabis prohibition across the globe.
(Featured photo credit: Mark Blinch / Reuters)