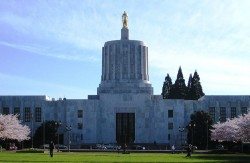 This past month has been a frenzy for leaders in cannabis reform in Oregon. In case you missed it, Tom Burns got fired, the medical marijuana community is at war with Oregon legislators who are trying to impose grow limits, inspections, and fees, and no one yet knows where they are going to legally buy weed in the state without a medical card come July 1st.
It would seem that the measure Oregonians approved with flying colors last fall, is harder to implement than it was to pass. That said, the fact that we are able to even engage in these discussions openly is a huge step forward from the war on drugs that started almost 45 years ago.
The closer we get to July, for this reason, the more I wonder what it took for us to be where we are today with marijuana legalization (or re-legalization really). When did the initiative against the war on drugs start, and who are the heros behind that movement?
The history of marijuana reform has no doubt been a slippery slope, especially in Oregon. Oregon was the first state to decriminalize cannabis in 1973, and one of the first to implement a medical program in 1998.
The passing of Measure 91 in November last year was another milestone for cannabis activists, especially those who have been fighting for its legitimacy since its prohibition in 1935. One such activist is Anthony Taylor.
I had the pleasure to speak with Taylor at the Oregon Medical Marijuana Business Conference (OMMBC) in Eugene a couple months ago. He had a lot to say about marijuana and legitimacy.
Taylor began advocating for marijuana reform as a student in college. He was head of the NORML chapter at Portland State University in 1976, and became a lobbyist in 1983 through an internship program run by the University. In 1985, he became the first paid marijuana lobbyist in Oregon, and the only one in the capital building. When asked about legislation during this time, he claimed it was "sausage making called legislation. We needed a voice in Salem for pot people, for cultivation and the plight of marijuana users."
Thirty years later, the same is true. Talking to Taylor, however, made me hopeful. When he first started working at the capital building getting anyone to talk about marijuana was difficult, and hearings were none to few. He was one of the few out and proud advocates for marijuana reform at the time, and comfortable making others uncomfortable with discussions of marijuana law and policy.
Because of continued efforts of people like Taylor, our power as a community is beginning to show. It is this kind of dedication to the truth that builds community. And it is this kind of community that is necessary to end the war on drugs and restore civil liberties.
Taylor is currently working on a patient care bill and medibles, and at the same time is involved with 91 legislation. His concern has always been the community, particularly the medical marijuana community, and he wants to ensure that the initiative that 56 percent of Oregonians voters approved last fall is upheld.