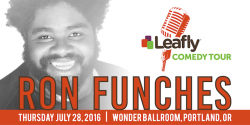 Comedian Ron Funches cut his comedic chops in the Portland, Oregon, comedy scene before moving to Los Angeles and promptly blowing up. He landed a gig in the comedy sitcom Undateable and he has been one of the funniest comics to grace Comedy Central's @midnight with Chris Hardwick. Funches has even made it onto the big screen with Kevin Hart and Will Ferrell in Get Hard, will be voicing a space alien in Home an animated series starting on Netflix tomorrow before adding his voice to Justin Timberlake's in the upcoming Trolls movie.
Funches is a comedic legend in Portland, and while I never got a chance to see him while he was living in the City of Roses, I'll be able to make up for that tonight. So if you aren't going to watch the DNC tonight, RSVP for tickets and get to the Wonder Ballroom when the doors open. Or, if you are a political junkie, head on over just after Hillary Clinton gives her big speech tonight and you should still be able to catch Funches bring many laughs to the city he once called home.
In an interview with The Oregonian, Funches gives California the nod over Oregon when it comes to cannabis because he doesn't like the limited amounts you are able to buy in the Beaver State, while the limit in the Golden State, at least in the dispensaries Funches visits, is "how much can you carry." So, the challenge is on, Oregon cannabis community, feel free to share legal amounts (out of public view, of course) with Ron Funches tonight, and let him know that California may have better quantity limits for now, but Oregon's quality can match any state.
Check out the best of Ron Funches' At Midnight performances: