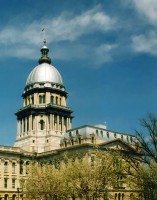 Marijuana decriminalization is a sensible policy that has both liberal and conservative rationales. It saves money, better prioritizes police resources and prevents minor marijuana offenses from ruining the lives of otherwise law-abiding citizens. The last three United States presidents all are known to have used marijuana and you can most likely add the next president as a former user as well. It is great to see cannabis decriminalization measures passing all across the country, for both the good policy aspect and the fact that decriminalization moves the state one step closer to legalizing cannabis.
Illinois looks to be the next state to decriminalize marijuana, with up to 15 grams being a civil fine, like a speeding ticket, instead of an arrestable crime that can have serious repercussions on one's employment and educational opportunities. The bill will go through some amendments before it is sent to Republican Governor Bruce Rauner's desk. The Illinois Senate passed the decriminalization bill, sponsored by Democrat Michael Noland, with a 37 to 19 vote as the Chicago Tribune reports:
"It's wrong, and I would encourage the children of this state and my own children to abstain from the use of the substance, but people do use this, and it should not be something that ruins social lives and professional lives as well," said Noland, who is mulling a bid for the 8th Congressional District seat now held by U.S. Rep. Tammy Duckworth of Hoffman Estates. "People have been arrested at very young ages for this and have suffered the consequences."

Supporters said the measure would keep low-level drug offenders out of the state's clogged jails and prisons. Earlier this year, Rauner announced a goal of reducing the state's prison population by 25 percent over the next 10 years. On Thursday, Rauner spokeswoman Catherine Kelly offered the administration's standard response when asked about pending legislation: "The governor will carefully consider any legislation that crosses his desk."

Another sponsor of the measure, Rep. Kelly Cassidy, D-Chicago, said she doubted that decriminalization would lead soon to the legalization of marijuana in Illinois. But she said the trend is in that direction.
As the Chicago Tribune notes, this bill comes on the heels of Cook County State's Attorney announcing that Illinois most populous county (where Chicago resides) would stop arresting people for minor marijuana offenses. This decriminalization measure following Cook County's policy change, along with the statement from Illinois Representative Kelly Cassidy that the state is trending toward legalization, demonstrates the step-by-step nature of marijuana law reform. Hopefully, Governor Rauner will sign this decriminalization bill and Illinois advocates can start lobbying for full legalization in coming legislative sessions.