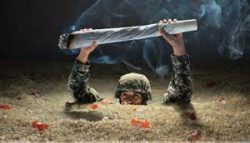 After two previous attempts, Oregon Representative Earl Blumenauer succeeds in a victory for America's veterans, for medical marijuana, and for compassion and common sense!
The great news is "House Passes Blumenauer Amendment to Remove Restrictions Preventing VA Doctors from Recommending Medical Marijuana." The Oregon freedom fighter's amendment is to the gigantic FY 2017 Military Construction, Veterans Affairs and Related Agencies Appropriations bill, and will likely become the law of the land next year.
The amendment passed by 233-189 with bipartisan support. It was co-sponsored by Representatives Joe Heck (R-NV), Sam Farr (D-CA), Dana Rohrabacher (R-CA), Tom Reed (R-NY), Dina Titus (D-NV), Barbara Lee (D-CA), Ruben Gallego (D-AZ), and Jared Polis (D-CO). Not all Oregonians get such great representation in the House of Representatives. This Oregon writer's congressman is Greg Walden, a neocon, prohibitionist Republican. Yet even Greg Walden voted this excellent amendment, one of 57 Republicans. After the vote Congressman Blumenauer noted,
This is an historic moment and further proof there is real movement and bipartisan support in reforming outdated federal marijuana policies. There is more to be done, and I will build on today's momentum and continue my efforts in catching federal policy up to reflect the views held by a majority of Americans.
Shamefully, until this law takes place next year, it remains illegal for VA doctors to recommend medical cannabis to help wounded veterans, even it states with medical exemptions. "Currently, the Department of Veterans Affairs (VA) specifically prohibits its medical providers from completing forms allowing a qualified veteran to participate in a state medical marijuana program."
This irony of this failed policy is painfully obvious: Supposedly our wounded vets sacrificed in the cause of freedom, and yet upon return to the USA they have zero freedom to use what may be the medicine for their physical and psychological wounds. Two and a half million Americans served in this country's longest wars in Iraq and Afghanistan, and a third are on disability from conditions like PTSD and traumatic brain injury, TBI.
In a post-vote interview reported in Huffington Post, Blumenauer stated,
A lot of them are suffering from PTSD, chronic pain, traumatic brain injury, and these are all conditions that have been shown to respond to medical marijuana. The notion that the VA would not allow its doctors to consult with and work with veterans regarding medical marijuana in states where it's legal I thought was outrageous.
Representative Earl Blumenauer has been among congress' staunchest advocates of medical, personal, and entrepreneurial freedom regarding marijuana. He has even petitioned the president to end federal cannabis prohibition.