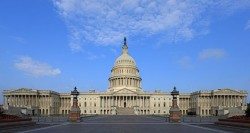 Yesterday, news hit that Senators Rand Paul, Kirsten Gillibrand and Cory Booker were to introduce a bipartisan medical marijuana bill in the United States Senate. Now, the qualifiers can be taken off, as the senators announced the bill this morning with a press conference. The marijuana law reform movement has made such amazing strides in recent years and this bill has been a long time in the making as support for medical cannabis has been at a supermajority level for several years now. Politicians are often behind the people on marijuana issues, so it is good to see some United States Senators catch up a bit.
The Drug Policy Alliance, the nation's leading anti-Drug War organization, has a 3pm Eastern conference call scheduled to discuss this important development. DPA describes the bill, known as the Compassionate Access, Research Expansion and Respect States (CARERS) Act:
Allow states to legalize marijuana for medical use without federal interference

Permit interstate commerce in cannabidiol (CBD) oils

Reschedule marijuana to schedule II

Allow banks to provide checking accounts and other financial services to marijuana dispensaries

Allow Veterans Administration physicians to recommend medical marijuana to veterans

Eliminate barriers to medical marijuana research.
"This legislation is a game-changer," said Michael Collins, policy manager for the Drug Policy Alliance. "It is worth noting that Senators with a national profile are championing this issue. Ending the war on medical marijuana is not only the right thing to do, it is the smart thing to do."

The Drug Policy Alliance will host a teleconference today 3pm EST. Journalists are invited to dial in and speak to policy experts, patients, and advocates.
So many people have put in so much work to fight for cannabis law reform and it is heartening to see such positive developments. With more and more politicians realizing that not only does science back up medical cannabis, but voters do as well, we will only see more progress on medical marijuana legislation. Additionally, as more Democrats and Republicans reach across the aisle to work on an issue that a super-majority of Americans agree upon, legislative successes will start to snowball and we can finally see an end to the failed and harmful policy of cannabis prohibition.