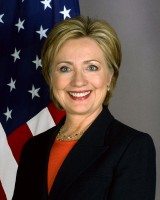 Hillary Clinton is still the odds on favorite for the Democratic nomination, even as Bernie Sanders' agenda items seem to set the tone for the Democratic primary debates. Sanders has led the way on most progressive issues, including marijuana legalization and criminal justice reforms. The Vermont Senator has staked out claims calling for an end to federal marijuana prohibition by removing cannabis from the list of federally controlled substances and he introduced a bill ending the federal private prison racket.
While not as strong as Sanders on ending prohibition, the former Secretary of State has stated that she supports medical marijuana and that states should be able to legalize marijuana without federal interference. Now, Clinton is calling for an end to mass incarceration and has stopped taking campaign cash from the private prison lobby. As Bloomberg reports, Clinton is such a large favorite to win the presidency that strong statements by her can impact financial markets and send stocks tumbling.
Ater Clinton tweeted out:
"We need to end private prisons. Protecting public safety…should never be outsourced or left to unaccountable corporations." —Hillary

— Hillary Clinton (@HillaryClinton) October 30, 2015
"We have to end the era of mass incarceration." —Hillary — Hillary Clinton (@HillaryClinton) October 30, 2015
Stocks for a couple of private prison profiteers tumbled. Bloomberg reported on the private prison stock plunge and noted that this isn't the first time statements by Clinton have moved stock prices:
Corrections Corp. of America fell more than 6 percent, lopping off approximately $200 million in value, while GEO Group Inc. dropped 4.2%, losing about $100 million.

Earlier this month, biotech stocks tanked after Clinton slammed Turing Pharmaceuticals for increasing the price of a drug by 50 fold. "Price gouging like this in the specialty drug market is outrageous," she tweeted at the time.

It was not the first time she's voiced concerns about private prisons and earlier this month her campaign said it would no longer take donations from the industry's lobbyists and PACs.
Many political supporters may not appreciate Hillary Clinton seemingly co-opting many Bernie Sanders' positions of the Drug War and criminal justice policies, but I must admit I welcome them. Whether you believe that Clinton is as trustworthy as Sanders on these issues is up to individual voters to decide of course, but I would personally support the candidate who has a long track record on the subject. However, candidates don't get any more mainstream as Hillary Clinton and if she is calling for an end to mass incarceration and the private prison industry, the movement for reform is clearly growing stronger and stronger.