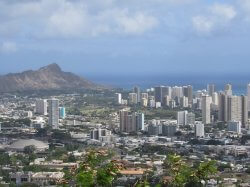 Despite the nonsensical naysaying by Reefer Madness prohibitionists, medical cannabis now enjoys mainstream acceptance across the United States, (and support is increasing around the world). Whether it be for chronic pain relief, the treatment of post-traumatic stress symptoms, nausea caused by chemotherapy, or a whole host of medical issues, a supermajority of Americans agree that patients should have safe access to medical marijuana when recommended by their doctor.
Despite the extreme bureaucratic hurdles placed in front of researchers, numerous peer-reviewed studies have concluded that cannabis is indeed medicine. Hawaiians are certainly no different as more than 18,000 patients have already registered with the state's medical program. Aloha State officials are now expecting a surge in patient numbers now that regulated dispensaries are now coming online (although not without some regulatory hiccups).
Hawaii News Now reports:
"With other states that have similar size programs, we've seen up to a 50 percent increase in the first year. We've had for our program, from inception to date, about a steady 20 percent per year, so we're expecting at least 20 percent, up to 50 percent," said Scottina Ruis, coordinator for the state's medical cannabis registry program.

More than 18,000 patients have now joined the state's medical cannabis registry.

"They see a light at the end of the tunnel. It has been a long road since 2000 to today, where we have an opportunity for patients to actually get their medicine from a licensed dispensary with products that have been tested by a laboratory," explained Ruis.
As more medical dispensaries open, and cannabis continues to become even more mainstream, it makes sense that more Hawaiians will seek out legal access to a safe medicine recommended by their doctor. As Hawaii News Now noted, state officials are taking notice to plan for a dramatic increase in patients, including the hiring of more staffers. After Oregon's medical cannabis dispensary system was implemented, the patient registry peaked with more than 70,000 patients (after legalizing for all adults and prohibiting out-of-state residents, the number of registered patients sits at nearly 62,000).
Hawaii, with about 35% of the population of Oregon, could easily see the number of registered Aloha State patients hit 24,500 or so, a 36% increase, in no time. With an increase in dispensaries and patients, and the state starting to recognize out-of-state patients at the beginning of 2018, it will certainly be a great time to attend the International Cannabis Business Conference in beautiful Kauai this December. (Full disclosure, I am proud to help organize the ICBC). It will be great to see entrepreneurs and advocates from around the nation, and world, converge upon Hawaii to network and learn as we continue the global movement to provide safe access to patients and eventually end the criminal prosecution of all adults who utilize cannabis.