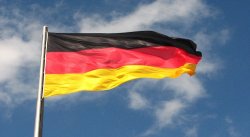 Germany has made great strides improving its cannabis laws in recent years, but there is still so much work to be done, as too many patients are still without safe access to a safe medicine. There was understandably great hope that Germany would start treating marijuana the same as any other medicine, after the country implemented an expansion of the burgeoning medical program, but too many bureaucratic hurdles remain. Hoping to fulfill the practical notion that cannabis should be treated the same as any other prescribed medicine, Dr. Franjo Grotenhermen, on of the world's preeminent medical cannabis experts, has announced a hunger strike until Germany sufficiently opens up the medical cannabis program to all patients in need.
I had the honor of meeting Dr. Grotenhermen when he spoke at the International Cannabis Business Conference in Berlin last year, and the man's dedication to the cause, and expert knowledge, were evident to all in attendance. I hope when the ICBC returns to Berlin in 2018, that Dr. Grotenhermen can reflect on how his efforts have successfully brought medical cannabis fully into the medical mainstream.
Below is a press release sent out by Dr. Grotenhermen announcing his hunger strike:
Cannabis expert starts hunger strike

Rüthen: On August 17, 2017, the German cannabis expert Franjo Grotenhermen entered an indefinite hunger strike. The objective of refusing to accept any food is to decriminalize all citizens who need cannabis to treat their serious diseases.

On March 10, 2017, a much-debated law on cannabis as a medicine went into effect in Germany. It was the declared aim of the legislature to allow all patients who need a therapy with cannabis medicines to do so. The law, however, proves itself in practice as too bureaucratic. Therefore, treatment with cannabis and cannabinoids is unattractive for doctors who in principle support such therapy. Many patients do not find a doctor who allows them legal access to the needed treatment.

"The legislature has taken a great step into the right direction," explains Grotenhermen. "However, many patients are still dependent on a still as illegal regarded treatment. They face criminal sanctions. This is no longer acceptable. Therefore a basic clarification in the narcotics law must be established. The prosecution of patients to whom a doctor has certified the need for a therapy with cannabis must end. "

Already today, the German Narcotics Law allows prosecutors to stop a criminal case in the case of a "minor debt". This possibility is mainly applied in cases of possession of small amounts of cannabis. Grotenhermen urges that criminal proceedings should in principle also be stopped if accused citizens need cannabis for medical reasons. "The need for a cannabis therapy should not be judged by the judiciary, a government agency or a health insurance company, but, as with other medical treatments, also by a doctor," explains Grotenhermen.

He also strongly supports the uncomplicated access of patients to standardized preparations from the pharmacy. In this respect, it is necessary to improve the existing law. However, the prosecution of the remaining losers of the legal situation must also be ended. "I am not aware of a convincing argument by which patients' prosecution can be maintained," adds Grotenhermen. A corresponding amendment to the Narcotics Act is, therefore, logical and unavoidable.

From 7 pm a 21-minute video will be presented on a special website (www.cannabis-hungerstrike.de), in which Grotenhermen explains in detail the background and goals of his hunger strike. On May 12, 2017, he had already begun a short 8-day "warning hunger strike", by which he wanted to draw attention to a problem associated with the new law.

Franjo Grotenhermen, born in 1957, studied medicine in Cologne. Medical practice in Rüthen (NRW) with a focus on therapy with cannabis and cannabinoids. Grotenhermen is the chairman of the German Association for Cannabis as Medicine (ACM), Executive Director of the International Association for Cannabinoid Medicines (IACM) and
Chairman of the Medical Cannabis Declaration eV (MCD), as well as author of the IACM-Bulletin, which is available in several languages on the website of the IACM. Grotenhermen is an associate of the Cologne nova-Institut in the department of renewable resources and author of numerous articles and books on the therapeutic potential of the hemp plant and cannabinoids, their pharmacology and toxicology. Among others, since 2008 he has been an expert on debates in the
Health Committee of the German Bundestag on the medical use of cannabis products, most recently in September 2016.