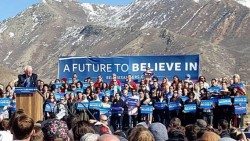 The deep-red state of Utah hasn't voted for a Democratic presidential candidate in over 50 years, but that would likely change if a presidential election were held today between Democrat Bernie Sanders and GOP front-runner Donald Trump. A Deseret News/KSL poll found that 48% of Utah voters would cast their ballot for Senator Sanders against 37% that would prefer Trump. While the crowd Sanders generated in Utah show that he has a lot of support in the Beehive State, his outside-the-margin lead should sound warning alarms to the Trump campaign. If the election ends up, as expected, between Hillary Clinton and Trump, Clinton holds a 2 point lead, 38% to 36%, a close election within the poll's 4.38% margin of error.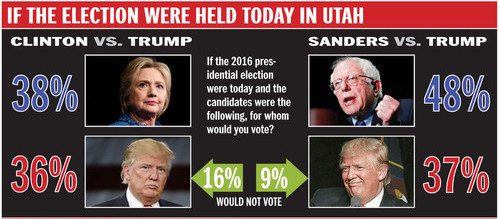 Independent voters have been a strength of Bernie Sanders, propelling the anti-establishment candidate to victories in states such as New Hampshire and Michigan and, right now, Utah independents feel the Bern as well, especially when Sen. Sanders is up against Donald Trump. Sanders wallops Trump by 36% among unaffiliated Utah voters while Hillary Clinton also enjoys a big 17% advantage over the likely Republican nominee.
This Utah poll shows a Utah electorate more concerned with Donald Trump than the rest of the Republican field as both John Kasich and Ted Cruz defeat Clinton and Sanders by relatively comfortable margins. Former Secretary of State Clinton would lose to Cruz 60% to 32% and Kasich 59% to 29% while Cruz defeats Sanders 53% to 39% and Kasich would garner 54% of the vote to 35% for Sen. Sanders.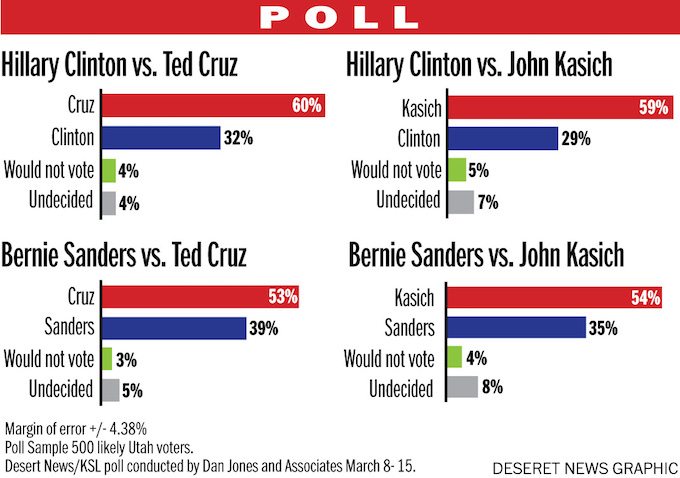 This Utah poll should be a serious warning sign for Donald Trump and the Republican Party, showing that Trump would need a serious pivot to a more general election audience if he is to be a truly viable presidential candidate. Much has been made of the animosity many people of color (particularly Hispanics) and women have for Donald Trump, as well as the GOP establishment. This Utah poll could be demonstrating another fissure in what could be a winning coalition for Republicans: libertarian-leaning Republicans. Americans with authoritarian inclinations may have carried Donald Trump thus far, but feeding those inclinations look like they are posing issues in Utah; it will be interesting to see if these issues carry over in similar states, such as Montana, Idaho and Wyoming.
Libertarian-minded people make up a significant portion of the cannabis law reform movement, so I have definitely seen anecdotal evidence from friends and colleagues who would normally lean towards voting for the GOP candidate state that they would never vote for Donald Trump and would even vote for Bernie Sanders and Hillary Clinton. This Utah poll could back up my anecdotal observations as a 2013 poll found that 35% of registered Utah Republicans consider themselves as either strong libertarians or leaning libertarian, compared to 21% of Republicans nationwide. Further, a 74% supermajority of Utah Republicans agreed with the statement that "individuals should be free to do as they like as long as they don't violate another person's rights, and that the government should keep out of people's day-to-day lives," compared to 58% of Republicans in a national poll.
Utah voters were asked to choose their top three issues this election and the two issues were the economy (56%) and national security security (34%), with healthcare coming in third (27%). The top two issues would seem to favor Donald Trump in a Republican stronghold, so something is sending these voters toward the progressive Sanders.
A lot of us with libertarian tendencies would love to support an anti-establishment candidate that shakes up a political party, exposing the undue influence of money and the corruption among party elites, but we can't get behind a candidate that uses inflammatory rhetoric and demonstrates such a distaste for opposing viewpoints. Inciting violence and challenging the free speech rights of both protesters and the press simply don't have a place in American politics.
While people won't forget Donald , it seems easily apparent that he needs to drop the authoritarianism schtick that has carried him this far very quickly. Not only does Donald Trump need to try make amends with women and people of color, who make up the base of the Democratic Party, but he needs to shore up the libertarian-leaning Republican voters that make up the base of the party in the Mountain West. Trump has exceeded expectations thus far, but as the GOP primary winds down, he is about to discover that he is looking at a Barry Goldwater-esque landslide defeat if he doesn't appease usual Republican voters turned off by authoritarian demagoguery.