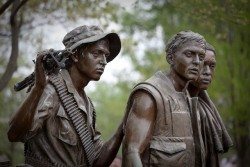 A bipartisan group of congressional representatives has released a letter encouraging the Department of Veterans Affairs to allow its doctors to discuss cannabis (and, when necessary, recommend it) with their veteran patients. The letter, signed by 21 senators and House members aims to "to improve the relationship between Department of Veterans Affairs (VA) doctors and their patients, with respect to medicinal use of…marijuana."
The letter's release is timed to the impending expiration of VHA Directive 2011-004, which strictly prohibits VA doctors from so much as speaking to their patients about marijuana. The directive, which expires Sunday, states doctors should refrain "from completing forms seeking recommendations or opinions regarding a Veteran's participation in a State marijuana program," in effect muting any doctor-patient conversation about medical marijuana.
Addressed to VA Secretary Robert McDonald, the letter doesn't mince words:
We have worked to ensure that our veterans have the care they have earned and deserve. That means allowing veterans to have full and frank discussions with their doctors without the fear of losing benefits. It also means allowing VA doctors to provide opinions and recommendations to their patients in states where medical marijuana is legal. Congress has taken initial steps to alleviate this conflict in law and we will continue to work toward this goal. However, you are in a position to make this change when the current VHA directive expires at the end of this month. We ask that you act to ensure that our veterans' access to care is not compromised and that doctors and patients are allowed to have honest discussions about treatment options. We look forward to your prompt attention to this issue.
Senators Kirsten Gillibrand (D-NY), Steve Daines (R-MT), and Jeff Merkley (D-OR), along with House members Earl Blumenauer (D-OR), Dina Titus (D-NV), and Dana Rohrabacher (R-CA) led the charge. Daines told Yahoo News that the directive violates 10th Amendment rights:
"When veterans walk into a VA facility and talk with their doctor, they can't discuss all of the options available to them that they could discuss at a non-VA facility next door. Current VA policy is not only a clear violation of states' 10th Amendment rights — it's a violation of our veterans' First Amendment rights to talk openly and freely with their doctors. Veterans shouldn't be discriminated against just because they're seeking the care they deserve at VA facilities."
Oregon's Earl Blumenauer (D-OR) introduced a piece of legislation last year, the Veterans Equal Access Amendment, that attempted to end the VA's anti-marijuana stance via the budget process. That amendment was narrowly defeated, partially because one representative said he accidentally voted no.
The Marijuana Policy Project's director of federal policies, Robert Capecchi, praised the representatives for "standing up for our nations veterans:"
"Current VA policy is doing a disservice to veterans by preventing their doctors from exploring all possible treatment options. We trust VA physicians to prescribe painkillers and other prescription drugs that are far more addictive and infinitely more lethal. Why can't we trust them to recommend medical marijuana to the patients who they believe could benefit from it?

We applaud these senators and representatives for standing up for our nation's veterans. We hope the Department of Veterans Affairs will act compassionately and follow their recommendation. It's time for the VA to stop interfering in the doctor-patient relationship when it comes to medical marijuana."
You can read the letter in its entirety here. Below is a list of all of the representatives who signed it:
Senate: Kirsten Gillibrand (D-NY), Steve Daines (R-MT), Jeff Merkley (D-OR), Cory Booker (D-NJ), Barbara Boxer (D-CA), Patty Murray (D-WA), Brian Schatz (D-HI), Tammy Baldwin (D-WI), Michael Bennet (D-CO), Ron Wyden (D-OR) and Elizabeth Warren (D-MA)
House of Representatives: Earl Blumenauer (D-OR), Dina Titus (D-NV), Joe Heck (R-NV), Sam Farr (D-CA), Jared Polis (D-CO), Chellie Pingree (D-ME), Steve Cohen (D-TN), Justin Amash (R-MI), and Mark Pocan (D-WI)
Photo Credit for Featured Image: Ed Schipul via flickr Creative Commons.