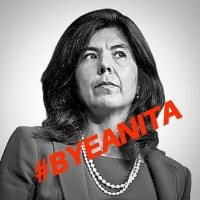 During the latest Super Tuesday, black Chicago activists flew banners across the city skyline criticizing Mayor Rahm Emanuel and State's Attorney Anita Alvarez for their shameful response to the police killing of 17 year-old Laquan McDonald. The banners read: "Chicago Stands with Laquan, Hillary Stands with Rahm— #ByeAnita #ByeRahm" as the activist group Assata's Daughter's decried both Alvarez and Emanuel while also criticizing Hillary Clinton for not condemning Mayor Emanuel strongly enough. While the Democratic front-runner Clinton narrowly won Illinois against challenger Bernie Sanders (along with big victories elsewhere), Anita Alvarez conceded to challenger Kim Foxx, who prevented Alvarez from a third term.
While the Laquan McDonald shooting, and subsequent cover-up, has been widely publicized and is seen as the impetus for Alvarez's electoral downfall, an investigation by The Daily Beast found that Alvarez failed to prosecute 68 police officers that killed civilians. Even more shocking is the fact that these decisions were seemingly made without any documentation explaining the decision to forego any prosecution.
In another controversial police shooting case, Alvarez charged an off-duty police officer with only involuntary manslaughter in the shooting death of Rekia Boyd, an unarmed 22 year-old black woman. Judge Dennis Porter cleared Chicago police detective Dante Servin of involuntary manslaughter, ruling that the shooting was intentional, so Porter couldn't be found guilty of involuntary manslaughter. Critics accused Alvarez of purposefully undercharging the detective, allowing him to go free after the tragic death of Boyd. Mayor Emanuel recommended that detective Servin be fired, but he somehow remains on the job. Chicago agreed to pay Boyd's family $4.5 million as compensation for Rekia's death.
Kim Foxx, who won the Cook County State's Attorney job from Alvarez with over 60% of the vote, stated that her victory was about "turning the page" and that, "The need to rebuild a broken criminal justice system here in Cook County is not work that should be taken lightly." From their statement following Foxx's defeat of Alvarez, Assata's Daughters made it clear that they will be watching, as will surely Black Lives Matters and other civil rights group demanding criminal justice reform in Chicago and across the nation.
The full statement released by Assata's Daughters following the defeat of Alvarez:
State's Attorney Anita Alverez Loses Re-Election After Tireless Campaigning from Chicago's Black Youth


"Chicago Black youth have kicked Anita Alvarez out of office. Just a month ago, Anita Alvarez was winning in the polls. Communities who refuse to be killed, jailed, and abused without any chance at justice refused to allow her to be re-elected as State's Attorney.

"We did this for Rekia…

"We did this for Laquan…

"We won't stop until we're free and Kim Foxx should know that as well."

###

About Assata's Daughters

Assata's Daughters is an intergenerational collective of Black women and girls. This demographic represents both the largest growing prison population and those leading protests against state violence in Chicago.

For More information visit: http://assatasdaughters.org

For photos of today's #ByeAnita banners visit: https://app.eyefi.com/s/29400487-2-uPFgBoR3PjI8Ucrr